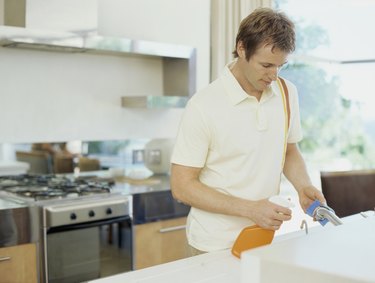 Lysol has been available on the American market in some form since early in the 20th century. It might have been available as early as 1889, according to the archived version of "Sajous' Analytical Cycolpaedia of Practical Medicine." Lysol is a brand name and a manufacturer of commercial and home cleaning products advertised to kill 99.9 percent of bacteria and viruses.
Lysol All-Purpose Cleaner with Bleach
Antibacterial products have become more prevalent as scientists study germs and the effect of germs and products on the human body and the ecosystem. Lysol is a brand name, and one of the makers of cleaning products for the homemaker and the professional. Lysol products are varied and do not all contain the same active ingredients. Lysol All-Purpose Cleaner with Bleach contains sodium hypochlorite, or bleach, and sodium hydroxide, according to the Material Safety Data Sheet (MSDS) published by Lysol for hazardous materials disclosure. Sodium hydroxide is lye, or caustic soda, used in homemade soap and professional products. Bleach kills bacteria but might damage some surfaces. Bleach attacks essential proteins in bacteria, much like hot water, according to a Science Daily report from 2008.
Lysol Disinfectant Spray
Lysol Disinfectant Spray has dimethyl benzyl ammonium saccharinate as the active ingredient, along with ethanol/SD alcohol 40. This is denatured ethanol and can cause ethanol poisoning. This product is an eye irritant and is not for direct spray on people or pets. Lysol spray contains an antimicrobial active ingredient that kills bacteria. The website reports that it cleans 99.9 percent of bacteria on soft surfaces as a spot treatment. Lysol disinfectant spray was made with phenylphenol at one time, but Cool Conservation reports phenylphenol is on California's Proposition 65 list as potentially carcinogenic. Lysol disinfectant sprays no longer contain that ingredient, but you might have an old can around the house from the 1990s.
Lysol Disinfecting Wipes - Dual Action
These Lysol pre-moistened wipes are for use in the kitchen or bathroom and have a rough side and a smooth side. The website reports that these wipes kill 99.9 percent of bacteria on hard non-porous surfaces in 30 seconds. These wipes contain dimethyl benzyl ammonium chloride and ethanol as effective ingredients, according to the MSDS. These active ingredients are similar to the antibacterial kitchen cleaner from Lysol and are effective on household bacteria.
Lysol Antibacterial Kitchen Cleaner
Lysol reports that the antibacterial kitchen cleaner product is 99.9 percent effective in killing viruses and bacteria when used as directed. It kills E. coli, Staph aureus, listeria, salmonella and pseudomonas. It also kills H1N1 and herpes simplex I and II viruses. Cleaning countertops with Lysol Antibacterial Kitchen Cleaner reduces germs on the surface and can help prevent food-borne illnesses. The active ingredient in this Lysol product is dimethyl benzyl ammonium chloride.