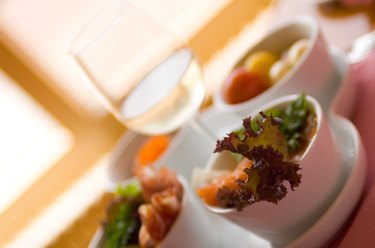 The 1930s in the United States was a decade of decline and depression. But unlike previous difficult economic times in U.S. history, it was easier for those who had fallen on hard times to buy cheaper food during the Depression of the 1930s. Families ate simpler meals that contained less meat, until 1937 when Spam was invented. This is not to say that extravagance was entirely lost, because there were certainly those who could afford to eat richly.
Drinks
Popular drinks in the 1930s were simple and yet savory. Tomato juice cocktails, ginger ale, bourbon, rye, Scotch whiskey, and Dubonnet and sherry were drunk in the 1930s. For those who don't want to drink cocktails or alcohol, a simple punch with soda and fruit juice with a few scoops of sherbet is the perfect addition to a party with a '30s theme.
Appetizers
Appetizers during the '30s were chic and simple and only contained a few ingredients per recipe. Toast with mushrooms, chicken liver in bacon blankets, smoked salmon canapes, crabmeat stuffed celery, rolled sandwiches and sardine snacks were common at the time.
Entrees
For dinner parties, the 1930s party host relied on simple and easy main dishes. Casseroles and entrees such as chili, meatloaf, and mac and cheese that could be made in one single dish and thrown in the oven to cook were common. Side dishes usually consisted of a single low-cost vegetable, such as potatoes or peas, that could be boiled quickly and easily. Meat was available, yet it was costly, so families would buy other parts of the animal that were cheaper and make stews out of them.
Desserts
Small finger desserts, such as petit fours and cookies, were standard during afternoon tea and coffee service. Maple meringue rolls, caramel tea rolls, and poppy seed rolls were particularly popular during the '30s. Because a lot of the foods during this time were simple, small dishes of ice cream were a common thing to serve at parties as well.