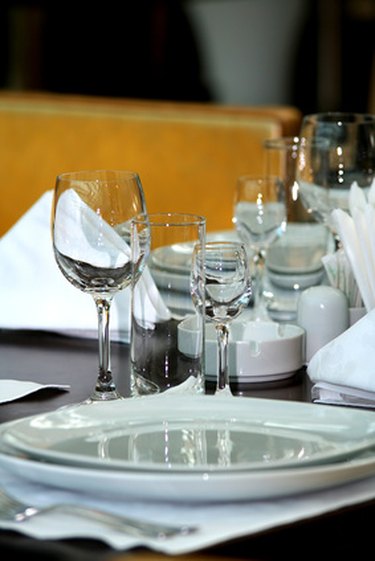 The styles of service at a banquet should reflect the tone of the event. You can opt for a buffet or family-style service for an informal banquet or traditional plate service for a more formal event. Your budget may influence your decision. Formal styles of service require more staff, which is reflected in higher costs.
Family Style
Family-style serving, also called "Table d'Hôte," means several large dishes are placed on each table. Guests serve themselves from the communal dishes. The food can be fancy, as long as you select dishes that will still taste good 20 minutes after they are distributed. This style of serving acts as a conversational ice breaker, whether the guests are asking one another to pass the risotto or the potato salad. "Martha Stewart Weddings" magazine declares: "Less staff is needed, so family style is usually the most economical choice."
Stations Buffet
A stations buffet includes four or five manned serving stations, each presenting a different course or cuisine. Some stations can have servers preparing food on the spot, such as an omelet station. Other stations allow guests to assemble their own meals, such as pasta bars and taco bars. Carving stations feature a roast that a server carves from as needed. With this type of service, you can seat your guests formally or allow them to mingle and move around as they eat. Thanks to all the options you're offering guests, food and rental costs can be high, according to "Martha Stewart Weddings."
Traditional Buffet
A traditional buffet has guests assembling their dinner as they walk along a table of dishes. Guests can serve themselves or you can opt to have servers standing behind the table. Traditional buffets can include stations as part of the buffet, such as carving stations or crepe stations for dishes that need some last-minute preparation. If you select self-service, pull the buffet table away from the wall so guests can access both sides of the table, preventing long lines. Buffets may be as expensive as more formal styles of service because the caterer must rent equipment, such as chafing dishes, and must prepare more food than needed because serving sizes are not predetermined.
French and Russian Service
In French and Russian service, wait staff bring platters of food to each table. These are formal styles in which food is presented in courses. In French service, the waiter places the food on each guest's plate and is sometimes accompanied by another server with gravy or sauce. In Russian service, guests serve themselves from the platter. Russian service is sometimes referred to as a type of French service. These styles require less work in the kitchen assembling plates, but do require the same amount of wait staff as plate service.
Plate Service
Plate service is a typical catering arrangement. Waiters bring a plate of food to each guest. Plate service doesn't allow for the variety that some other styles offer. Plate service is costly because of the large kitchen and serving staffs required, as well as all the dishes and tableware that must be rented.