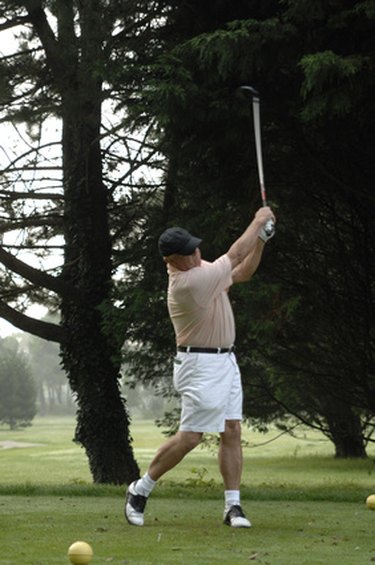 The long road to retirement is often challenging, so celebrate the end of one journey and the beginning of the next with a festive retirement party. Retirement parties are well-suited for a number of color schemes, from classic looks to creative themes. Base the color scheme on the interests and personality of the guest of honor for a truly personalized experience.
Themed Color Schemes
Choose a color scheme based on the guest of honor's interests. For example, if the retiree is looking forward to hitting the golf course, decorate the hall with green streamers and white and green balloons, line the buffet table with sections of turf, and serve appetizers on white tee pedestals. For a world traveler, select subdued browns brightened with blues and reds to evoke images of leather luggage, stamped passports and country flags. If the guest of honor has plans for an elaborate tropical retreat, throw a luau-themed party, and decorate with festive tropical yellows, greens, pinks and purples; frame the entryway with inflatable palm trees, and scatter fake tropical flowers in bright pink and blue on the tables.
Playful Color Schemes
A playful color scheme brings out the inner child of the guest of honor and invites guest to do the same. The most straight-forward option is to create a color scheme based off of the retiree's favorite colors; even colors that don't seem to match well like blue and purple create a playful, bright atmosphere for party guests. Another playful color option is to throw a retro-themed party that celebrates a decade, say the festive fifties. Decorate the party space in black, white and red for a classic look, or add a touch of baby pink for a more feminine space. If the guest of honor has a taste for libations, throw a wine themed party, and decorate with deep purples and classy gold accents.
Classic Color Schemes
For a classic retirement party, sophisticated and timeless color schemes are a suitable option. Keep it simple with a black and white color scheme; add a bit of distinction by opting for black paper plates and white streamers, instead of the more expected combination of white plates and black streamers. Add a bit of sparkle to a retirement party with a silver and gold color scheme. Festive cascades of curled gold ribbon and metallic balloons on silver strings add a bit of fun to what is otherwise a rather sophisticated color palette.