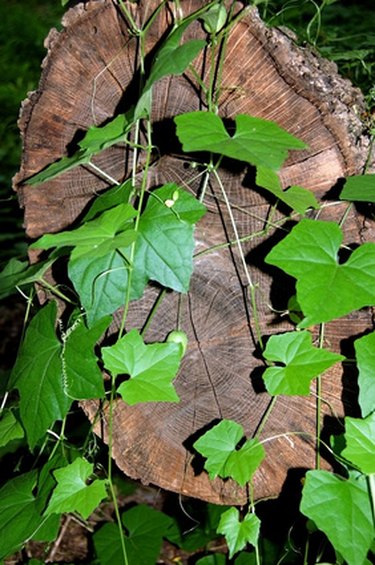 With a simple grapevine garland, you can add a point of interest to any room. Grapevine garlands are affordable and versatile, making them a wonderful addition to your home decor. As you put the finishing touches on your interior design, consider integrating some grapevine garland accents into your plan to give your space a distinctive, finished look.
Window Draping
Give your window dressing a natural, earthy look with the addition of grapevine garland. Purchase lengths of garland long enough to span the tops of your windows and hang down approximately a foot on either side. Drape these garlands over your curtain rod, placing them on top of your existing curtains or valance to finish off your window design.
Cabinet Decorations
If your kitchen cabinets do not reach all the way to the ceiling, consider dressing up this bland above-cabinet space with grapevine garland. Pile garland on top of the cabinets, allowing it to peak naturally over the cabinet tops and twirl around them to create an interesting and natural-looking addition to your kitchen space. To make your above-cabinet space even more attractive, mix additional accents into your grapevine design by placing thematically appropriate statues or empty wine bottles among the vine twirls.
Bed Canopy Wrapping
Turn your standard bed into an ethereal place of rest by wrapping your bed canopy with a grapevine garland. Twist your garland around the bed's canopy top to create this look. Do not focus too much on spacing the vine twists evenly, as they would not be even in nature. Instead, make a loose wrap that closely resembles the vine as it would naturally wrap itself around a solid surface.
3D Room Border
Instead of bordering your walls with a standard wallpaper border, give your wall tops a distinctive look by creating a 3D room border. Use small nails to attach a grapevine garland around your wall. As you attach the vine, allow it to twist and turn, creating tenuous twirls that look aesthetically pleasing and natural. While this room addition, unlike a standard border, will require dusting, the uncommon look will likely attract the attention of guests and set your space apart from the rest.
Grapevine-Covered Wreath
Jazz up an old wreath with a grapevine wrap. Instead of tossing your old holiday or seasonal wreath, give it a new lease on life by wrapping a lush green grapevine around it. Secure your grapevine wrap with hot glue on the back of the wreath. Add some silk flowers or holiday tokens to make your wreath more attractive or festive.