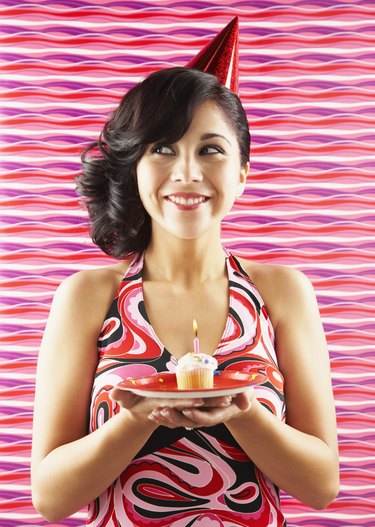 Turning 25 marks not only the halfway point of being in your 20s, but also being well into adulthood. A party for a woman turning 25 should be sophisticated for an adult but still squarely about being young and having fun. Whether you commemorate this milestone with a refined party at home or venture out for an exciting escapade, make this an unforgettable celebration she'll adore.
Girl's Night In
Host a party at home that reflects the birthday girl's tastes and passions and includes her favorite foods and libations. For the birthday girl who loves glitz and glamour, host an elegant cocktail party decked out in her favorite color. If she loves pink, cover dining and buffet tables with pink satin fabric. Use bunches of pink and silver balloons through the room. Serve her favorite appetizers along with a signature cocktail such as a pink cosmopolitan.
If the guest-of-honor is a film buff, host a movie night. Send out "Admit One" invites to guests to set the stage for the party. Decorate with posters from her favorite films and "Oscar" style statues. Set up a concession stand complete with popcorn, candy and beverages for guests to enjoy while watching her favorite films.
Wine Tasting
If the celebrant is a wine aficionado and you live near a wine region, celebrate a 25th birthday with a wine tour and tasting at a local vineyard. Alternately, you can host a wine tasting at home. Celebrations.com reports that the key to a successful wine tasting is to keep it simple with just a few wines to enjoy. Purchase four wines: two whites and two reds. Then decide what food to pair them with. Fruit and mild white cheeses pair well with whites. Heavy cheeses and rich chocolates pair deliciously with red wine. Have water and crackers or baguette slices on hand to nibble between tastings.
An Afternoon Affair
Host an outdoor tea party if weather and space permits. Turn your patio into an English garden by adorning tables with vintage floral-pattern table cloths, bunches of fresh flowers and retro tea pots with porcelain cups. Offer a variety of teas including herbal, green and black tea. To accompany the tea, have bowls of sugar and honey and a pitcher of cream. Serve traditional tea party fare such as finger sandwiches, scones with jam, butter cookies and pastries, along with the birthday cake. Or, host a decadent champagne brunch. Serve chic dishes such as quiche Lorraine and warm French toast topped with berries and whipped cream. Set up a Champagne bar that includes fresh berries and mixers, such as orange juice and raspberry liqueur, allowing guests to make their own sparkling wine cocktails.
An Adventure
Celebrate the 25th birthday girl by doing something out of the ordinary if she's the adventurous type. Sign up a party for surfing lessons and a day at the beach. After riding the waves, complete the day with a picnic on the sand. Pack her favorite goodies such as gourmet sandwiches and salads. Finish the meal with birthday cake and her favorite beverage.
If she's always wanted to jump out of a plane, gather your group for skydiving lessons. Once you hit the ground, toast this birthday milestone with her favorite libation. Or perhaps the celebrant is the outdoorsy type. Commemorate her birthday with a rock climbing excursion. After the mountain has been scaled, celebrate with a portable lunch of wrap sandwiches, fruit salad and mini birthday cupcakes.