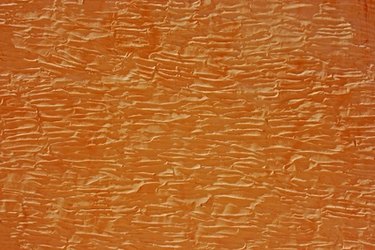 Textured walls present some painting challenges but also provide an opportunity for you to try some faux painting techniques, such as color washing or glazing. Accentuate the texture to give your walls depth and interest, making them look like sun-washed plaster or weathered stucco. Use specialty paints and glazes, such as metallic or pearl finish, to add a more sophisticated look to your walls.
Glazing and Colorwashing
This relatively easy-to-do technique involves thinning down paint with either oil- or water-based glaze or water and applying it over a base color with an old brush or rags. Typically the base coat color is a medium shade while the color added to the glaze is a deeper version of the base color. The resulting finish is dramatic or subtle, depending on how much paint you add to the clear medium. This technique highlights the wall texture and looks particularly good with white trim.
Sheepskin Pads and Woolly Rollers
Applying a glaze or color-washing solution with sheepskin pads or special woolly rollers gives a softer look than brushing and can minimize the appearance of really rough walls because the subtle blended finish softens the ridges from the texture. Paint and craft stores offer a variety of applicators to give you a diffuse effect.
Specialty Paints
Applied either thinned into a glaze or straight from the can, metallic and pearl paint both look dramatic and sophisticated. While these paints often seem overwhelming in a large room, they are stunning in a small room, such as a hall bathroom or as an accent wall.
Sponging
Sponging on paint, using either synthetic or sea sponges, allows you to build layers of color for a very rich look. It usually looks better to use several shades of the same color than layering several different colors, which can give a muddy or "busy" look to your walls. Start with painting the walls a medium base color, and apply at least three layers of paint with a sponge, using both darker and lighter shades of your base color.
Consider Paint Sheen
Paint is available in several sheens or gloss levels, from flat to high gloss. The higher the gloss level, the more it will highlight your textured walls, especially in a brightly-lit room. Although flat paints are not usually very washable, some paint companies now carry "washable flat" or "matte" paints. While a little more expensive, these paints offer both the soft look of a flat paint combined with dirt resistance and washability. Apply paint to textured walls using a long-napped paint roller; lambswool roller covers work beautifully on textured walls, and, if you wash them out and store them properly, they will last you through many gallons of paint.