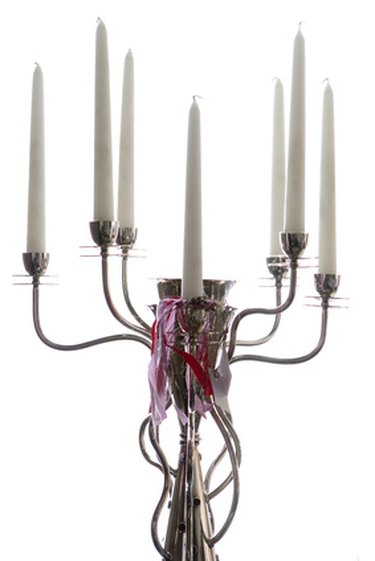 Your daughter will think you are her fairy godmother when you throw her a Cinderella-themed Sweet 16 birthday party. From the invitation to the decorations, the celebrant will feel like Cinderella, and her guests will feel as if they are attending Prince Charming's royal ball.
Glass Slipper Invitations
Ask guests to attend this affair with glass slipper invitations. Purchase inexpensive high heeled shoes, and paint each one silver. While the paint is still wait, cover the shoes with silver glitter. On decorative note cards, print the details of the party in your best script. Punch holes in the top of the note cards, and string pink or silver ribbon through the holes. Attach the note cards to shoes by tying the ribbon around the heels. Have the invitations hand delivered by someone dressed up in elegant attire.
Royal Decor
Pink, pale blue, silver and white are the color scheme for this gala event. Place balloons and streamers in these colors around the party area. Cover tables with pink satin tablecloths and silver, organza overlays. Place candelabras in the center of the tables, and scatter silver sequins and fake jewels around them. Set the tables with stemware and china. Drape lengths of white and pale blue velvet fabric along the walls. Create a throne for the birthday girl by covering a chair with pink velvet - secure the material with a velvet ribbon.
Regal Fare
Serve a menu fit for a princess. Finger sandwiches and an array of sliced meats make up the main course. Sweet treats can include petite fours, sliced fresh fruit, chocolate fondue and decadent cupcakes and ice cream sundaes - served in silver bowls, of course. Make a royal punch by mixing lemon lime soda with grape juice, vanilla ice cream and cherries.
Parting Gifts
Thank guests for coming to the party with parting gifts. Give girls tiaras and boy crowns. Another option is a sterling silver photo frame engraved with the honoree's name and the date of the party. Of course, you could give each guests their own copy of the movie Cinderella or a copy of the movie's soundtrack.