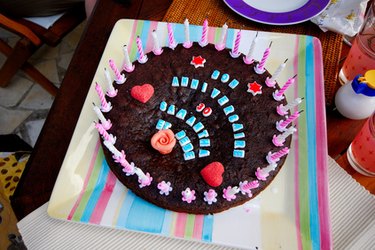 A high school graduation is a great right of passage for a teenager; and for many graduates, the commencement ceremony falls close to their 18th birthday. If your teen will be celebrating graduation and a birthday in the same season, you can throw a party that will adequately celebrate these two special occasions.
Decorating for the Party
Since you're combing two events into one party, the decorations should reflect this. Banners with phrases such as "Congratulations" and "Happy Birthday" can be hung on opposite walls in the party space. Posters of graduation caps can also be used to make the environment more festive, as well as streamers and confetti, which are appropriate for both occasions--small confetti pieces in the shape of the year of the graduation is ideal. Use the guest of honor's favorite colors for the tablecloths, window decorations or eating utensils, or incorporate your child's school colors to further accentuate the graduation theme. To combine the graduation and birthday premise, purchase small graduation caps as party favors, but include your teen's age on the tassel (instead of the graduation year), and write "Happy Graduation/Birthday" at the top of the hat.
Slideshows
Compile several photos of your son or daughter completing other milestones in life, such as winning awards in school, or walking for the first time. All of these types of pictures would be appropriate for the party, since an 18th birthday marks the transition from childhood to adulthood, and a graduation signifies the ending of a child's first 12 years of schooling. Include your teen's favorite songs in the slideshow, as well as sound bytes and video clips of you and your loved ones wishing the guest of honor well in college and future endeavors, as well as saying "happy birthday." Play the slideshow in the background as guests eat and mingle, or set aside a few minutes in the party for everyone to view the display together.
Gifts
Inform all the guests that the party will serve two purposes in the invitation. Suggest that everyone bring two small gifts for the guest of honor--one to celebrate the graduation, and one birthday present. Set up a gift table at the celebration, and divide the table into two sections so that guests can put their present in the appropriate place. If invitees are not sure what to buy for your teen, suggest affordable gifts such as a CD from her favorite band, or a book from an author he admires. A joint gift, such as a journal or scrapbook that all party guests can contribute to and sign, will make a memorable present for both a graduation and 18th birthday, and should be filled with advice about adulthood and accomplishing goals.