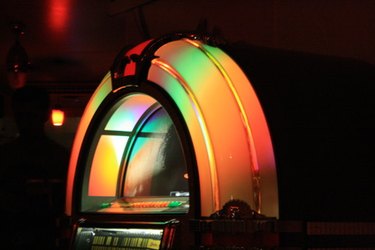 Even if you're not old enough to remember them, the aesthetics, products, culture and history of the 1950s are probably familiar to you, enough to invoke a sense of nostalgia. Creating an atmosphere to help bring about this feeling is a great basis for a themed party. In addition to using items such as food, music and costumes to evoke the feeling of this decade, create some handmade crafts for use in decorating and enhancing your event.
LP Bowls
For this craft, get a hold of some old, unwanted or scratched LP records and transform them into stylish 1950s-evocative serving bowls for your party snacks. To do this, bake them in a 400-degree oven while using two oven-safe bowls to shape them. Place the bowls upside down, one on top of the other, with the LP nested in between; bake for just a couple of minutes, watching to see when the LP melts into a bowl shape, causing the three bowls to nest. Remove the bowls with an oven mitt and let them cool.
1950s-style Jewelry
Create some 1950s-inspired jewelry crafts to wear yourself or give to your guests as party favors. Popular designs at that time included brooches, pendants and earrings made from clusters of angular, faceted rhinestones set in metal bases, as well as multitiered pearl necklaces and bracelets featuring beads of different sizes. (For more jewelry inspirations from that era, see Resources.)
Jukebox Standee
To give your party space an authentic 1950s café feel, create a two-dimensional cardboard jukebox standee to position in front of your stereo system while you play 1950s tunes. Use a large sheet of cardboard (such as a refrigerator box) and draft the jukebox outline in black permanent marker before filling in the colors with acrylic paint. If you can't draw this by hand, find some jukebox clip art (see Resources) and print it life-sized using several printer pages and pasting them together on the cardboard before painting.
Vintage Ad Place Mats
Use vintage 1950s artist-drafted print ads as place mats at a dinner party, giving each guest a different ad that will serve as visual interest and a conversation piece. Print the ads on computer paper for basic, disposable mats, or get the pages laminated if you want to make reusable place mats. Be sure to print with full color (where applicable) and to use a high-quality printer resolution to make the fine text on the ads readable.