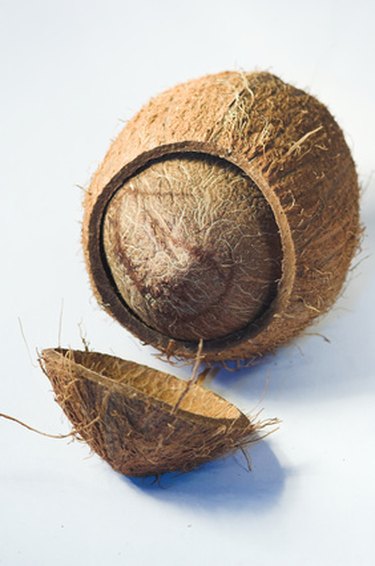 Mardi Gras literally means "Fat Tuesday" in French and Fat Tuesday is the last day of the weeklong Mardi Gras celebration. Mardi Gras is the Tuesday before Ash Wednesday and marks the beginning of Lent. Its origins lie in a week of decadence and indulgence before the sacrifices of Lent, when followers of Judeo-Christian religions are required to give up something they enjoy until Easter. Mardi Gras' traditional colors are purple for justice, green for faith, and gold to represent power. These colors are a great place to begin for a Fat-Tuesday-themed party. Common party favors could include Mardi Gras beads, doubloons, masks, jester hats, and noise makers, even coconuts—very prized during the parade put on by the Krewe of Zulu, one of the well-known Mardi Gras krewes.
Go Fancy
Balls are a hallmark of Mardi Gras, with each of the krewes--the groups that put on the parades--throwing their own. Some are lavish, put on by krewes that have been around for decades and longer. Ball gowns and tuxedos are the requisite attire, and the foods for such a party might include canapés, oysters, crab cakes, brie and camembert, and maybe a good crawfish etouffee. Drinks can be anything from wines to bourbon milk punch. And, of course, there should be music and waltzes and party games like Acting Proverbs—a form of charades where proverbs are acted out and the participants must identify them—or the naming of a King and Queen of the ball. Give out appropriate Mardi Gras gifts for the games, including crowns, scepters, doubloons or beads.
Mardi Gras Costumes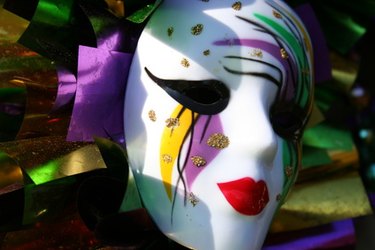 Throw a traditional fancy dress party, with guests dressing in costumes—the more elaborate the better—and wearing masks. A costume contest could determine the King and Queen and the food can be fancy or more relaxed, with steaming bowls of gumbo and hearty jambalayas. You also could hold an "Oldest Coin Auction," in which the date of the coin is what determines who gets an appropriately themed prize. The coins can either be returned to their owners, or if the guests agree, gathered together to make a donation to a charity, a time-honored Mardi Gras tradition, especially among the older krewes.
Go Authentic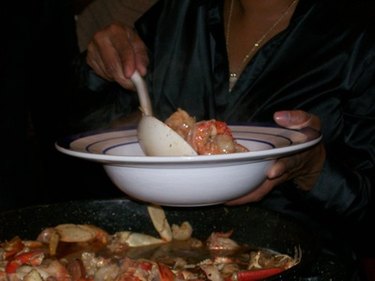 While the krewes are holding balls, and the French Quarter's bars and Garden District residents are holding masquerades, the traditional families are inviting their friends and neighbors to a crawfish boil or a potluck dinner. This kind of party calls for drinks like Hurricanes and Mardi Gras Punch, and plain old beer, with zydeco and jazz coming from the speakers and lots of dancing and merriment. Food is traditional New Orleans fare; red beans and rice, jambalaya, King cake and, of course, the traditional crawfish boil, although fried chicken is always a welcome addition. There's no need for a king or queen in this scenario, although organizing a group to parade through the party goes over well. To make it a more traditional second line, the designation given to Mardi Gras dancers that are not part of an organized krewe, give the paraders parasols and handkerchiefs to twirl in the air as they dance and spin and toss beads to the onlookers.