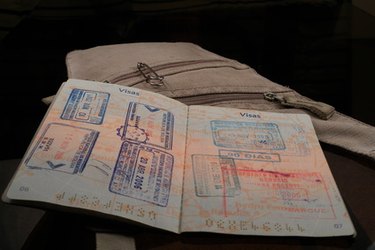 The Republic of Guatemala issues passports valid for a period of five years. Apply in person for your Guatemalan passport. Your passport-issuing office depends on your country of residence. After you submit your application, allow up to three weeks for receipt of your Guatemalan passport.
Application
Apply for your passport at an Immigration-Passport office in Guatemala. The main Immigration-Passport office is located in Guatemala City. Visit your Guatemalan consulate or embassy to apply for your passport if you are living abroad. Your application must be completed in person.
Identification
The Republic of Guatemala requires identifying documents accompany passport applications. Present your original birth certificate and a legible copy to complete your passport application. If born in Guatemala, present a registered copy of your Cedula de Vecindad. A cedula verifies your Guatemalan citizenship and can be used in lieu of a birth certificate. It is issued through the Guatemalan Civil Registry. Copies of your cedula are available at the city hall in the Guatemalan town where you were born.
Photos
Attach two passport-sized (3.5 cm x 4.5 cm) photos to your Guatemalan passport application. Look directly at the camera to ensure the photo displays an unobstructed view of your face. Muted backgrounds and plain clothing are required for passport photos. Passport photos are available for a minimal fee at drugstores and post offices. Computer programs allow you to produce your own passport photos at home with ease.
Fees
When applying for a passport abroad at your local Guatemalan embassy or consulate, pay $65 (USD) for your application fee and $80-$90 (USD) for processing (as of August 2010). When applying inside Guatemala, pay the stated fees to the Immigration Bank in Guatemala and submit proof that you are current on Guatemalan city taxes in the form of a bank receipt.