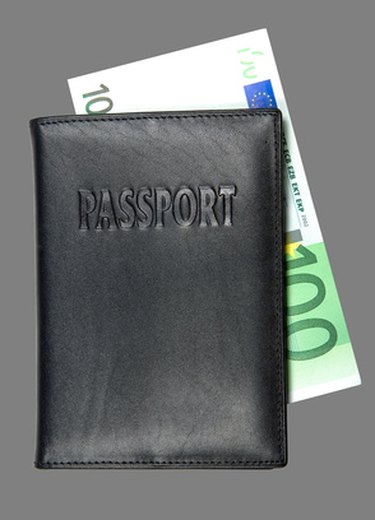 A Canadian passport is a valuable piece of identification that allows Canadians to travel internationally. As of June 1, 2009, Canadian citizens have been required to present a valid passport in order to gain entry into the United States when traveling by air, and passports are highly recommended for Canadians entering the U.S. by land or water as well. In order to obtain a Canadian passport, you must complete an application and submit it to Passport Canada along with supporting documentation. It is important to ensure your application is as accurate as possible, but in the event that you make an error, it must be corrected before you use your passport for travel.
Correcting an error on the actual application
Step 1
You may complete the Canadian passport application either by hand or electronically using a fillable PDF, which then can be printed for submission. If you make an error on the electronic version, you may simply correct the mistake and re-print the application. If you make an error on a handwritten application, do not use white out or any form of liquid correction, as this will void your application and will not be accepted by the passport's office. For small errors, you may cross out the error and make a written correction, but for anything substantial, it would be best to begin a new application.
Step 2
Proofread your application for accuracy. Errors in your application will result in either a rejection of your application or delays in processing time, so it is important to ensure the information on your passport application is accurate. Double check that dates are in the requested format and you have spelled your name correctly. Have someone else proofread your application.
Step 3
Ensure your signature on the application fits within the box provided. If your signature goes outside the lines of the box, your application may be rejected or you will need to provide an additional signature, which will cause delays in the processing time.
Step 4
Deliver your passport application in person. Although you can mail your application, if you choose to deliver the passport application in person to a passport office, a clerk will review the application and ensure there are no obvious errors. If an error is found, you will be able to re-do the application prior to submitting it, and this will prevent any further delays.
Correcting an errror AFTER submission or on an existing passport
Step 1
If you realize you have made an error after submitting your passport application, you must immediately contact Passport Canada. It is likely the error will be caught during the application process and you will be contacted to provide supporting documentation to correct the error or you will be asked to submit a new application.
Step 2
If you receive a passport and notice an error, you must immediately contact Passport Canada. Errors in the spelling of your name or date of birth are the most serious errors and must be fixed before you use your passport. If you are outside of Canada, you may contact a Canadian Government Office that provides passport services abroad.
Step 3
The Canadian passport provides a spot to fill in your address. If you make a mistake writing your address in your passport, or if your address changes, this does not invalidate your passport. Cross out the mistake or outdated address on Page 4 of your passport and write your new/correct address in the space above. Do not use whiteout or any form of correction fluid in your passport. If you do not have sufficient space to write your new address, place a separate piece of paper inside your passport with your updated address information. You may staple this page to Page 4 of your passport.
Step 4
If your appearance changes significantly, it is recommended by Passport Canada that you apply for a new passport. The passport photo is intended to be an accurate likeness to your physical appearance, and if the photo in your passport no longer accurately depicts your image, you should apply for a new passport. It is not possible to simply update the photo on your passport; you are required to apply for a new passport and pay the applicable fees, even if your existing passport still is valid.
Step 5
Tip
Make use of the instruction sheet provided with the passport application to ensure the accuracy of your application.
There is now a Simplified Renewal Form available for Canadian adults in Canada or the USA to renew a passport that has not been expired for more than one year.
Warning
Be wary of any organization or website that offers "support" or assistance in completing your passport application.
There are no services or outside organizations that can speed the processing time of your passport application.
No one should charge you for information on how to obtain a Canadian passport.