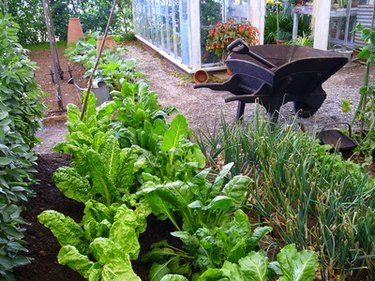 A wheelbarrow is a metal, wood or plastic transportation device that has one wheel, a bucket (barrow) and two handles. The modern user of the wheelbarrow lifts up the handles and pushes the device forward, using the wheel to lighten the load.
Construction
Masonry and concrete workers frequently use metal wheelbarrows to mix concrete and mortar. While these professionals may use concrete trucks and cement mixers for large batches of concrete, many residential repair jobs only require a small amount of concrete to be mixed. A masonry workers pours concrete into the bowl of the wheelbarrow and then sprays water into the concrete powder. Then he uses a shovel to mix the water and concrete, taking care to spray off any unused concrete out of the wheelbarrow when the mixture begins to harden. Other construction workers and handymen use wheelbarrows to transport small amounts of construction materials by hand. If a small amount of debris or construction waste must be cleaned up or the job site does not feature heavy equipment, wheelbarrows are used by construction workers to dispose of debris and waste.
Landscaping
Landscapers visibly alter the natural environment of a piece of property. Professional landscapers may use big trucks to transport mulch and gravel, but they may use a wheelbarrow in order to transport materials from a large pile to their desired area. Residential landscapers use wheelbarrows to transport smaller trees and shrubs for planting and carry fertilizer to shrubs and trees.
Gardening
Gardeners use wheelbarrows to reduce the strain on their backs when moving large bags of top soil and compost. When planting a large garden, plant trays fit inside the basin of the wheelbarrow, requiring fewer trips to move plants to a garden. Wheelbarrows are also useful for weeding, as a wheelbarrow can be moved through the rows of a garden and weeds can be loaded up and dumped in another location. Another modern use of wheelbarrows is for loading and transporting sticks that are lying around the yard, so that your lawnmower blade does not become chipped. Some gardeners even use old wheelbarrows as permanent containers for plants, although the bottoms eventually rust out.