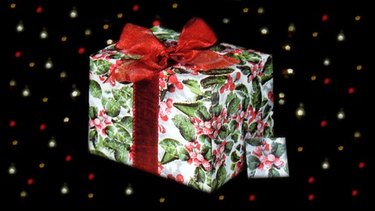 At 32, a man is closer to his 20s than the age 40 milestone, so finding a gift that balances enertainment and fun with the maturity that comes with the 30s is important. A 32-year-old man is not a young boy anymore but will likely still enjoy active and daring activities, humorous gag gifts or some gourmet treats. A gift for a husband could also take a romantic turn.
Basket
Choose a theme and assemble a basket with items relating to that theme. For example, a beer theme would work well for many 32-year-old men. It's easy. Just collect an ensemble of imported and/or flavored beers. Beers come in a variety of brews and flavors, from extra hoppy to amber to even chocolate flavored. Add in an engraved stainless steel beer mug and beer bottle opener. Humorous beer cozies with "over the hill" jokes and a beer-themed T-shirt or pair of boxers will add a lighthearted element to the basket ensemble.
Tee--Shirt
Design a personalized birthday T-shirt either through an online vendor or a custom T-shirt store. This will be a gag gift that will produce a laugh from the husband turning another year older. Add a childhood or teenage photo to the front with the words "hunk" or "studmuffin" on the front. Include a humorous saying, such as "1/3 of the way up the hill" or "32 is the new 22."
Outing
Book an outing for a "guys-day" for the birthday husband. Choose an active and adventurous activity, such as kayaking, rock climbing or playing paint ball. The men can kayak as a group down a river and camp overnight at a nearby campsite. Rent a paintball field for an afternoon where your husband and his friends can play rousing games of capture the flag, defend the fort and one-on-one combats. Paintball courses often will have refreshments on hand, so the group can enjoy burgers and beers after completing the course.