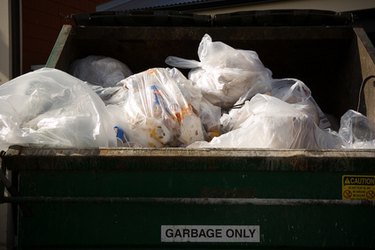 The National Fire Protection Association governs trash chute construction and maintenance. Code NFPA 82, called the "Standard on Incinerators and Waste and Linen Handling Systems and Equipment," primarily sets the minimum requirements for trash chutes that all buildings owners must follow, but other codes also apply. Chutes must adhere to certain standards, such as size, material, intake and discharge doors, vents and fire safety.
Chute and Vents
The NFPA has set the size of a chute at a minimum diameter of 24 inches. Internal chutes should be constructed from 16 gauge aluminized steel. The vents should have the same diameter as the chute and extend for at least 4 feet above the roof and be constructed from 22 gauge galvanized steel. Chutes must have accessible points for workers and equipment to enter to maintain and repair them, such as flushing and sanitizing units as well as plumbing and electrical connections. Chute assembly mostly takes place in a factory, including welding joints and support frames. The attachment of bolts, rivets and clips does not need to happen until the chute arrives at the building.
Doors
Intake doors should have a self-closing function to keep foul smells from seeping through. The discharge door at the bottom end of the chute should have a closing gate and a 45 degree sweep attached to it. Door openings should measure at least 24 inches wide by 30 inches high with top or bottom hinges, made from a 12 gauge galvanized, spring-loaded plate that rolls on a two inch steel track or from 16 gauge aluminized steel. Doors must resist catching on materials on the outside of the chute and bags on the inside so the waste will fall completely through it to the waste bin.
Fire Standards
Discharge openings should have fire dampers with the UL "B" label, cover, design, gate, frame and closing mechanism, all of which must conform to UL 555, which sets the minimum requirements of fire dampers. Chutes should contain a sprinkler system that complies with NFPA 13 with at least one sprinkler head located at the top service opening or just above it. Doors should have a 1.5 hour fire rating with a 30 minute temperature rise of 250 degrees. Regular tests of trash chutes check the fire damper and safety of the system.