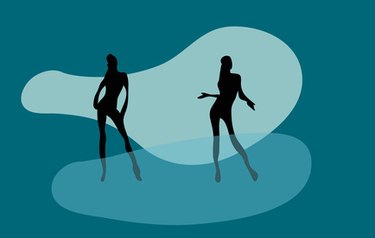 While women can have fun simply socializing and sharing information about their lives, organized games give them an opportunity to deviate from the norm and compete with each other in potentially outlandish tests of mental skill. When planning your next ladies gathering, consider preparing some engaging games to ensure that all participants have a great time with their friends and acquaintances.
Handbag Hunt
Allow women to use the contents of their overflowing purses to their advantage in this easy-to-implement game. Prior to the gathering, consider common objects that women may carry in their handbags. Write each object that comes to mind on an index card. Tape the index cards to a wall in your party venue, and cover them with a sheet of paper or fabric so that they are not visible as party guests arrive. When time comes to play the game, explain to party guests that you soon expose a wall full of index cards featuring common purse contents. Divide guests into four teams. Tell the teams that, when you expose the wall, they should move through their purses and pull out the listed contents. If a team member has one of the objects, a member from the team must run to the wall and remove the index card, pairing it with the object. The team with the most properly paired index cards at the conclusion of the game wins.
Women's Word Unscramble
Create a mentally challenging game for your ladies event. Prior to your gathering, compose a list of words with which the ladies attending the event would be familiar. Tailor the list to their interests. For example, if the ladies all attend a particular gym or favor a certain type of wine, include these words on your list. After composing your list, type up the words, scrambling the letters. Create copies of this word scramble sheet. Present the prepared sheet to the ladies in attendance, and give them a set amount of time to unscramble as many words as possible. Present a prize to the woman who unscrambles the most words successfully.
Thrift Store Fashion Show
Give ladies the opportunity to strut their stuff by putting on a thrift store fashion show. To prepare for this game, visit an area thrift store and purchase some notably unattractive duds. Divide these purchased garments relatively evenly between four grocery sacks. When party goers arrive, ask two members to volunteer to act as judges. Present these individuals with paper on which to record their scores. Divide the remaining party guests into four teams. Give each team one of the prepared bags full of garments, and ask them to use these objects to create a fashion forward look, placing the attire on a team member. Once teams have dressed their elected models, allow each model to walk the virtual runway. Instruct the judges to record a score from one to 10 for each model. Add up the judges score, and award a prize to the winning team.