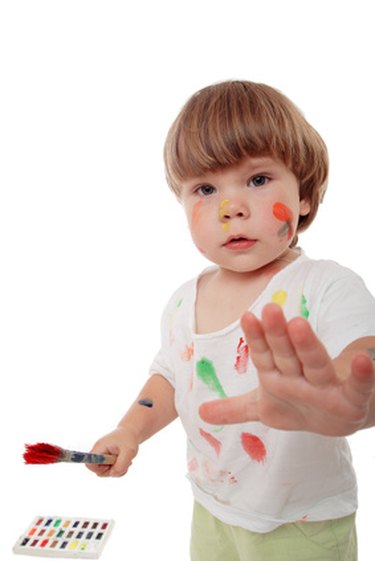 That year between the time when baby turns 1 until she turns 2 is full of growth and developmental milestones. This very young toddler is curious, active and ready to explore the world around her. Crafts that help develop small motor skills, involve the five senses and allow for creativity in exploring art processes are beneficial to a young child's growth. Hands-on crafts not only delight children, but also offer valuable learning experiences.
Bubbly Finger Painting
Use butcher paper, so kids can finger paint on the paper side, while the waxed paper backing helps keep liquids from soaking through. Make bubbly finger paints with one part colorful juice to three parts warm water. Add a generous amount of baby shampoo. Young children can finger paint with the warm, colorful and sudsy mixture. Put down a clean piece of paper periodically, if desired.
Picture Frame
Cut a picture frame from cardboard or craft foam. Mark and cut out a picture opening the size you desire for a 4 by 6 inch or large picture. Offer a variety of craft materials for the child to glue onto the frame as he wishes. The child may also color on the frame to make it a keepsake. Use gel pens or permanent markers to print the child's name and the date he made the frame.
Colorful Bird Feeder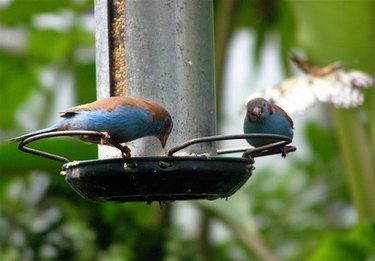 Provide a variety of colors of chenille stems. Bend each end of the stems to create a blunt end rather than leaving the sharp wire ends exposed. A child can thread some round cereal pieces onto some of the sturdy chenille stems. Form a circle from one cereal-filled stem, and twist the ends together. Add another stem, looping it through the first circle. Continue to make a bird feeder with several loops of cereal. Let the child help you hang the bird feeder outdoors. The bright colors, as well as the cereal, will attract birds to eat the child's craft project.
Smash-mallow Collage
Provide colorful marshmallows, frosting and a paper plate for the child. Show kids how to smash, pull and shape a marshmallow. Make several smashed marshmallows. Kids can use their fingers to scoop some frosting onto a paper plate, then press the marshmallows into the frosting to create a collage. Since both art materials are edible, supervision is minimal, as tasting will not harm the child.
Big-handled Puppets
Paper towel tubes are easy for young children to grasp and hold. Have the child choose one or more pictures of animals, people or favorite cartoon characters to color, or offer magazine cut-out pictures. Glue one trimmed-to-size picture onto the cardboard tube. Make one or more puppets for the child to play with.
Egg Carton Creatures
Remove the lid from a cardboard egg carton. Cut the bottom of the carton in half lengthwise to make two long creatures, or in sections of two for smaller creatures. Offer several child-safe craft materials, including crayons, for the child to create snakes, worms, centipedes, ants, bugs, fish, people or just a "creature" without a name. Keep the creatures in a box for anytime play.