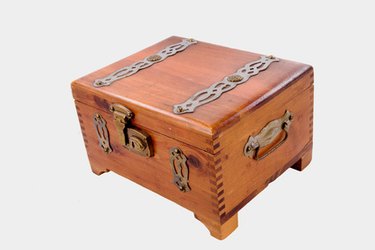 Whether you enjoy finding new, crafty uses for things or just want to reduce the number of things destined for your recycling bin, "repurposing" is for you. If you were given a wood cigar box as a gift or were lucky enough to find one in a thrift store, it can serve as inspiration for many projects. With just a couple of supplies and a little bit of planning, your creative juices will be smoking.
Secret Crush Keeper
Keep tabs on your secret crush by turning a cigar box into a secret crush keeper. The outside of the box remains untouched; it won't attract any undue attention and will throw pesky younger brothers or nosy cousins off your track. On the inside of the lid, use glue or tape to attach a photo of your crush. Use the box to store mementos of any time you've spent together, such as concert tickets, movie stubs or receipts from a lunch or snack at the mall. Add a small journal, where you can write down your thoughts on your crush and plan out letters before actually sending them.
Diorama
Create your own little world inside a cigar box by designing a diorama. Dioramas are scenes that represent a single moment in time, according to the Diorama Man website. Options include recreating your own home, a popular destination spot such as Las Vegas or Disneyworld or your own fantasy location. Although a cigar box restricts your diorama to an extremely small scale, you'll find accessories for small dioramas at craft stores, hobby shops and online. You can also make your own. Cut out pictures from a magazine and glue them around the inside of the box. Use miniature figures, flocked bears or plastic toys as your characters. You can even take advantage of your computer's collection of clip art. Search for diorama items such as statues, skylines, chairs or lighthouses; shrink them to size; print them out; and glue them inside your cigar box.
Purse
If you enjoy the heady, earthy scent of cigars, make a cigar box purse. Roomy enough to hold a wallet, keys, cell phone, makeup and a snack, a cigar box purse can be quickly assembled with supplies gathered from a quick trip to the garage or the hardware store. First, decorate your box any way you like: cover it with pretty scrapbook paper and decoupage medium; paint it to match your favorite outfit; draw your favorite sports team or cartoon logo; or leave it the way it is if you like its original graphics. Position a purse handle or drawer pull on the top near the clasp, and mark the spots to drill holes for screws. Install the handle.