If you're looking for a way to add some character to your home, look no further. Statement walls will add a unique touch to your space, giving it the custom look you want without the price tag. You can add a dramatic focal point in any room of your house, plus, you can do it yourself! Check out these DIY statement walls for some great ideas.
1. Wood Pallet Accent Wall
The chic farmhouse look is in, and it doesn't seem to be leaving anytime soon. A wood pallet accent wall is the perfect rustic touch to any home that needs a little bit of character.
2. Board and Batten Statement Wall
If you have a fireplace in your home, consider DIYing a board and batten accent wall. It will make your fireplace a prettier focal point and add some great texture to the room.
3. Wallpaper Accent Wall
Wallpaper can really pack a punch when it comes to making a statement. Choose a unique design, prep your space, and you can easily make your own wallpaper accent wall in one day.
4. Patterned Statement Wall
If you don't want to make the commitment to wallpaper or don't want the mess, try making a patterned statement wall instead. All you need for this DIY project is a Sharpie paint pen and a glass bowl.
5. Custom Wainscoting
Installing your own custom wainscoting can take your home from boring to beautiful. It can be pretty expensive to have it professionally installed, but if you aren't afraid of a little hard work, you can get the same look for less money.
6. Paint a Statement Wall
Making a fantastic statement wall in your home can be just as easy as painting. Paint your own accent wall using a fun color or unique pattern. Browse some magazines for ideas, pick up a paintbrush, and get started.
7. DIY Modern Plank Wall
How beautiful is this modern plank wall? This would make an excellent addition to any room lacking personality. Paint it white or another accent color that would fit well in your home.
8. Molding Square Statement Wall
This DIY molding square wall mimics wainscoting for a cheaper price. You can easily angle the squares to dress up a stair case.
9. Gallery Wall
Gallery walls are all over the place, but they can be slightly intimidating. Hanging art and photographs that are level is time consuming and can be daunting, but it's not impossible! Take a look at this DIY gallery wall for some time-saving tricks and get inspired to create your own.
10. Quilted Statement Wall
This quilted statement wall will certainly wow anyone who walks into your home. If you can use a sewing machine, then this project is perfect for you. A wall like this will add a modern vibe to any room.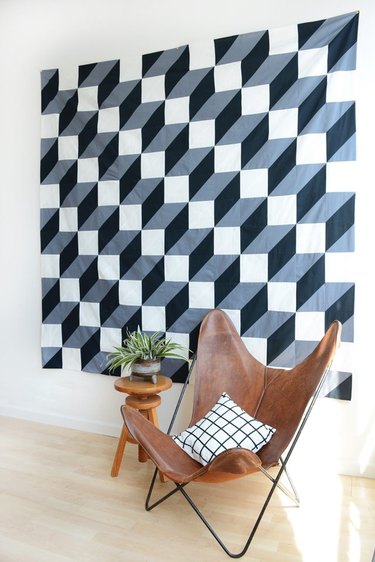 Feeling inspired? Get out your hammer, nails, and paint because these statement walls are perfect for any DIYer! Which one will you try?