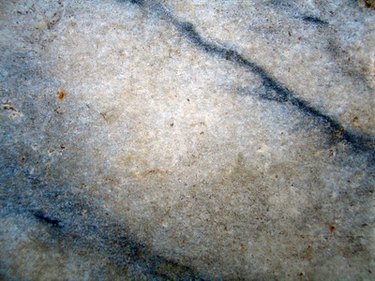 Marble pastry boards can be used for many tasks in the kitchen. The cool, flat surface of a marble pastry board is ideal for rolling out pastry or cookie doughs or for making homemade pastas. Marble is beautiful and durable, but being a natural stone, it is porous and can easily absorb stains. Marble is a calcareous stone, composed mainly of calcium carbonate. Calcaerous stones are sensitive to acidic cleaning products, so be careful about the types of products you use on it.
Scraping
Before using any kind of wet cleanser or water on your marble pastry board, scrape off any solid pieces of food with a rubber spatula. Don't use a metal or hard plastic spatulas because they can scratch the polished surface of the marble.
Washing
Wash the surface with a solution of warm water and mild detergent. A mild dishwashing soap works well. Rinse the surface of the pastry board well with clear water. Do not allow soaps or detergents to sit for long on the marble because smells can linger in the porous stone, making future pie crusts smell like soap.
Removing Stains
Because of the porous surface, marble pastry boards can become stained from extended exposure to oils, juices, or other colored liquids. Applying a poultice to affected areas can remove stains. You can buy a poultice mixture at hardware stores, or you can make your own. To make a poultice, combine 1/4 cup of baking soda with just enough water to form a thick paste. Before you apply the paste, dampen the stain with distilled water to prepare the pores. Next, apply the paste to the stain on the marble, cover the poultice with plastic wrap and tape the edges down to seal in the air. Leave the poultice and the plastic wrap on the stain until the baking soda dries. The poultice will pull the stain out of the marble. Wipe the baking soda off, rinse the stain, and repeat all the steps if any of the stain remains.