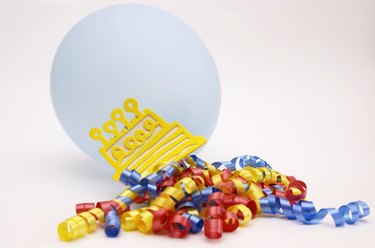 When planning your 12-year-old's birthday party, it can be a challenge to find a place. Twelve is an age where kids are no longer young children, but not yet teenagers. Choose a place that won't be too childish, but that also offers something interesting to guests.
Concert
For a 12th birthday party that your child will remember forever, take guests to an age-appropriate concert. Teenage singers from the Disney Channel generally give concerts with a healthy and fun atmosphere. If your child has different musical tastes, choose an adult performer with a more laid-back vibe to avoid a concert with copious amounts of drugs or a dangerous mosh pit. Take your child and his or her guests to dinner first, and allow them to get concert t-shirts to commemorate the occasion.
Farm
If your child is particularly interested in animals, consider holding his 12th birthday party at a farm. Look for a farm that offers special birthday party packages, or one that welcomes field trips--these locations will be used to hosting groups of children. Plan time for interaction with animals: horse riding, petting zoos, and animal feeding can all be interesting for pre-teens.
Spa
For a girl's 12th birthday party, a makeover at a spa could be the epitome of cool. Take your daughter and her guests to a local spa, and arrange for them to have pedicures, manicures, facials, steam baths, and a makeup session. Arrange ahead of time with the spa to have makeup available in kid-friendly colors, and be sure to include plenty of glitter. Take before-and-after pictures of the guests as souvenirs.
Arcade
An arcade, especially one with an attached restaurant, can be an exciting place for a 12th birthday party. Supply each guest with a roll of quarters and set them loose; consider offering prizes for the kids who win the most games.
Camping
For a birthday party that combines adventure and the excitement of sleep-away camp, take your child and his friends camping. To make it easier to keep an eye on the crowd, buy a tent with multiple rooms where the kids can sleep. To increase the "cool" factor, sleep in a separate tent. Be sure to pack fun food and supplies for s'mores.
Hotel
If camping isn't your thing, hold your child's birthday party at a local hotel. Rent a suite, invite friends, and be sure to stock up on popcorn and movies. For a special treat, order room service. Spend plenty of time at the pool, and invite guests to bring dress clothes for a fancy dinner in a nearby restaurant to complete the evening out.