With their colorful, cup-shaped blooms, long, ribbon-like leaves and sleek, graceful stems, tulips are among the most popular flowers. Whether in the garden or an arrangement of cut flowers, tulips lend a sense of freshness and elegance to any setting. They come in a broad spectrum of colors, ranging from fiery red to pure white, and a range of sizes, from petite, single tulips to bold, double tulips. While tulips have a singular beauty all their own, there are other flowers that bear some similarity to them.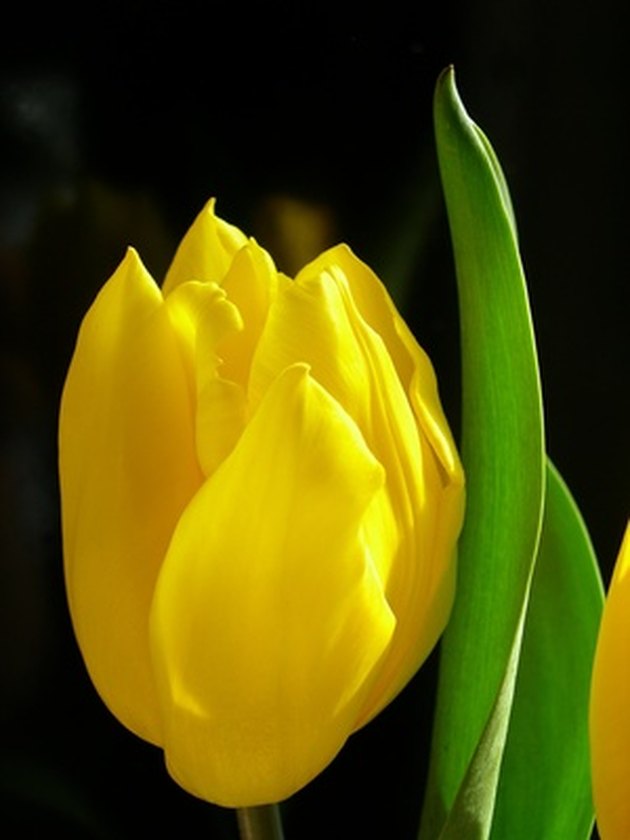 Roses
There are varieties of roses that have elongated, cup-like blooms that are similar in shape to those of tulips. For example, the hybrid tea roses available in most flower shops are known for their long, elegant blooms. In addition, roses, like tulips, come in a broad spectrum of colors; in fact, they are available in every color of the rainbow. It is easy to shorten rose stems to make them more comparable in size to those of tulips.
Daffodils
Daffodils, like tulips, are bulb flowers that appear in the springtime. They have sleek, thornless green stems that are similar to those of tulips. Like tulips, daffodils seem to capture the essence of spring. Their blooms come in various shades of yellow, gold, orange and white. In addition to being reminiscent of tulips, daffodils make a wonderful complement to tulips when the two types of flowers are placed together in a garden or bouquet.
Ranunculus
Like tulips, ranunculus flowers grow from bulbs. They have blooms composed of many densely-packed petals, making them similar in appearance to double tulips. Their smooth, thornless stems are also very much like those of tulips. Ranunculus flowers come in the same colors that tulips do, including interesting shades of fuchsia and purple, as well as warm golds and oranges.
Anemones
Anemones have much of the grace and elegance that tulips possess. Their delicate-looking blooms consist of several ovoid petals arranged around a circular center. They come in a variety of colors ranging from deep purple to pale cream. Like tulips, their stems are long, sleek and smooth. Anemones look harmonious when combined with tulips, and make a fresh wildflower-like impression when on their own.
Hyacinths
Like tulips, hyacinths are spring flowers that grow from bulbs. Their similarity to tulips lies in their smooth, sleek stems and long, ribbon-like leaves. Hyacinths are highly fragrant flowers composed of numerous tiny florets that cover the top portion of each stem. They come in shades of pale blue, dark blue, purple, pink and white.