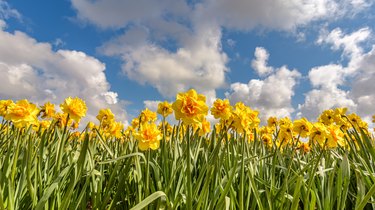 Tulips (Tulipa spp.) are extremely popular spring plants that grow from bulbs and produce cup-shaped flowers. Native to parts of Europe, Asia and the Middle East, there are some 100 different species of tulip that come in nearly every color except true blue. Tulips can be planted as annuals or perennials.
Characteristics of Tulips
Considered true bulbs, tulips grow from tunicate bulbs, which get their name because they are enveloped in a paper-like substance that protects the bulb's storage tissue, or scales. With time, new tulip bulbs develop from the base of the mother bulb. As these new bulbs develop, the main plant can become weak, which is why bulbs need to be divided every few years. When dividing, wait until the foliage turns yellow and withers, as it is providing nutrients via photosynthesis to the bulbs until that point. You can replant tulip bulbs to start new plants. Tulips are hardy bulbs, which means that they require a cold period in order to break dormancy and produce flowers.
Each tulip flower has six tepals. Tulip varieties are categorized into 15 different groups depending on the attributes of the flowers and at what point in the spring they bloom. Lily-flower tulips, for example, have pointed petals. The petals of parrot tulips are fringed and feature streaked blooms in unexpected color combinations. Tulips like to grow in full sun.
Like tulips, other popular flowers that bloom in the spring derive their energy from fleshy underground bulbs. They include daffodils (Narcissus spp.) and hyacinths (Hyacinthus spp.) Like tulips, daffodils and hyacinths are considered true bulbs and are also hardy.
Similar to tulips, daffodils come in several colors, though the most popular is unquestionably yellow. There are also cultivars of hyacinth in various colors, although the species version is usually blue. Unlike tulips, which feature a bloom atop a stem, hyacinth flowers grow in panicles.
Though not considered true bulbs, crocuses (Crocus spp.) grow in the spring from bulb-like structures called corms. Their blooms are cup-shaped like those of tulips. Crocuses are often one of the first flowers to bloom, sometimes flowering in late winter. The most common colors are mauve, lilac, white and yellow. Crocuses close their flowers at night.
Flowers That Look Like Tulips
One of the distinctive features of tulips is the cup-like arrangement of their tepals. Other flowers that have a similar type of bloom include Canterbury bells (Campanula medium), which, unlike tulips, are available in shades of blue. Canterbury bells must be grown in groups or supported with stakes in order to remain upright. The Texas bluebell (Eustoma grandiflorum) also has bell-shaped flowers, and you can find white, pink and blue-violet varieties. Canterbury bells and the Texas bluebell are biennial.
Other tulip types of flowers include the Mexican prickly poppy, which is also cup-shaped and has yellowish-orange flowers. Mexican prickly poppies have spines, however. Mountain laurel (Kalmia latifolia) has interesting bell-like flowers that resemble open umbrellas. One variety of mountain laurel has white flowers with maroon dots. Unlike tulips, mountain laurel is a great option for shaded areas.