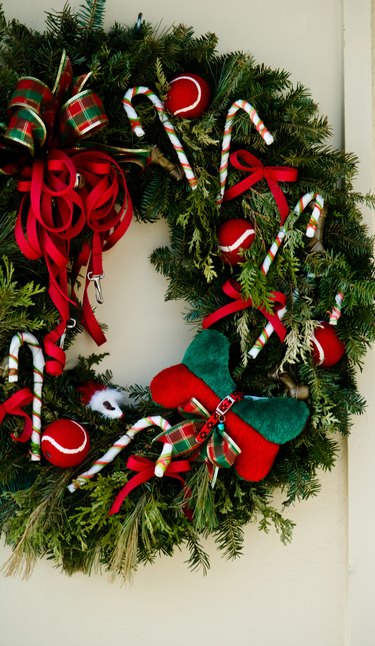 Candy cane crafts can be great a way to decorate your home for the holidays. There are a variety of festive ideas you can try with your children to make ornaments and décor for the Christmas season. Candy canes are affordable, making it possible to create several candy cane crafts.
Candy Cane Mouse
Turn your candy cane into a mouse. Make a body and face for your mouse out of craft foam or felt. Glue on googly eyes and a tiny red ball for a nose, and glue your foam or felt mouse body onto a candy cane. Construct it so that the curve of your candy cane is the mouse's tail. Use the mice as Christmas tree ornaments, or gifts for friends and family.
Reindeer Candy Cane
Make a reindeer with a candy cane, pipe cleaner, ribbon and googly eyes. Twist pipe cleaner around the top of your candy cane, so that the ends stick out like reindeer antlers. Glue googly eyes to the front of the curved part of your candy cane and tie some ribbon around the base for a little more flair. You can hang the reindeer, or use this craft to tell children the story of Rudolph the Red-Nosed Reindeer.
Candy Cane Heart
Make a candy cane heart using superglue and ribbon. Apply a dab of superglue to both ends of two candy canes and glue them together so that they form a heart shape. Add ribbon and other decor. You can hang this like a wreath. Make multiples and use them as festive centerpieces for Christmas dinner, or glue a photo onto one side and turn your heart into a picture frame.
Christmas Tree Ornaments
Decorate candy canes to make homemade ornaments for your family Christmas tree. Set out glitter, glue, pipe cleaners, ribbons, googly eyes, and yarn and let the kids decorate accordingly. They can do glitzy candy canes, or decorate them in their likeness using googly eyes and yarn for hair. When they are done, tie string to candy canes and hang on the tree.