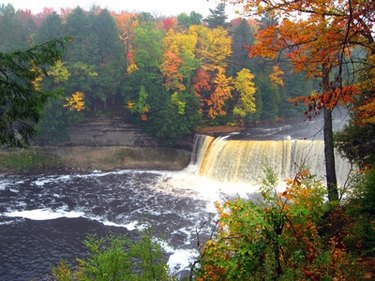 Michigan's Upper Peninsula offers visitors a chance to see a variety of attractions, including a sunken ship, lighthouses, waterfalls and colonial forts. Travelers to the area can also go hiking, biking, snowmobiling and snowshoeing and participate in other outdoor activities in this pristine wilderness. Those who enjoy a more leisurely pace can take guided train tours of the Upper Peninsula of Michigan.
Toonerville Trolley Wilderness Train Ride
The Toonerville Trolley Wilderness Train Ride is a nearly two-hour ride through some of the wilder areas of Michigan's Upper Peninsula. This guided tour allows visitors to see native wildlife, including a number of bird species. Binoculars are recommended. Guides will also point out native trees.
The train is a 24-inch gauge train, the longest of its type in the nation, according to the company's website. The train travels just over 5 1/2 miles with a short stopover near the Tahquamenon River. Passengers may walk to the river to view it while the train is stopped. Snacks are provided on the tour, which runs only during the summer.
Soo Locks Train Tour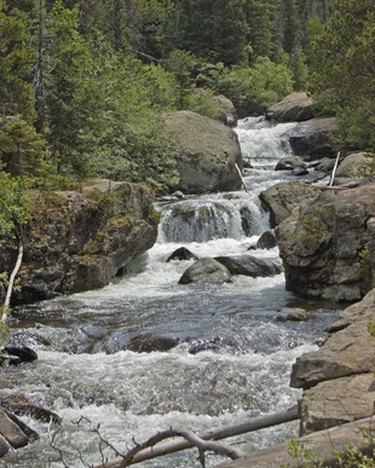 The Soo Locks Train Tour takes visitors through Sault Ste. Marie, Michigan, and crosses into Sault Ste. Marie, Ontario, via the International Bridge. This tour allows visitors to see picturesque views of Upper Michigan from the windows of their train, including Soo Locks itself. Guides provide in-depth information on the history of the waterway, which allows freighters to pass from the area into the Great Lakes and the ocean.
Visitors will be able to see forts held by the French and the Americans. They will also pass a retired Great Lakes freighter and the biggest hydroelectric power plant in the world. The train is recommended for people of all ages. It runs during the summer and early fall.
Tahquamenon Falls Wilderness Excursion
The Tahquamenon Falls Wilderness Excursion is a combination train ride and riverboat cruise. The tour runs 6 1/2 hours and is only available during the summer. Travel 5 1/2 miles through wildlife habitats on a 24-inch gauge train. Guides will point out native wildlife, trees and plants.
The river cruise picks passengers up where the train ends for a 21-mile cruise to the Upper Tahquamenon Falls. Guides will provide information on the history of the river, Native Americans and the wildlife in the area. Passengers can hike almost half a mile to the falls and will then take the train back to Soo Junction. Visitors may buy food on board.