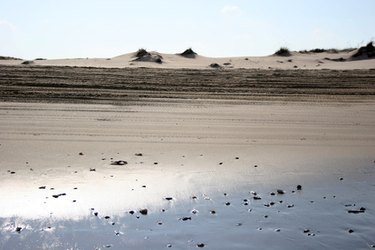 Greensboro is one of North Carolina's inland cities, situated roughly 200 miles off the Atlantic Coast. Along with Winston-Salem and Raleigh, Greensboro forms the Piedmont Triad metropolitan area. Geographically, this mid-sized city sits in between the Atlantic Ocean and the Blue Ridge and Great Smoky mountain ranges. Although landlocked, Greensboro is close enough to the coast to give locals and visitors access to a variety of beach getaways.
.
Wrightsville Beach
Wrightsville Beach is located near Wilmington, about 200 miles southeast of Greensboro. Driving on I-40--the fastest route to the beach--takes about three-and-a-half hours. Wrightsville Beach offers a variety of lodging options, including hotels, motels and beach cabin rentals, and features both casual and upscale restaurants and shops. Visitors will also find a range of activities at Wrightsville Beach, including marinas, golf courses, fishing and surfing. The beach is bordered by Masonboro Island, a scenic barrier island off the coast that serves as a wildlife preserve for sea turtles and shore birds. It features the North Carolina Birding Trail, a popular trek for local bird-watchers and outdoor enthusiasts.
Kure Beach
Kure Beach is a tiny town that sits on the southern tip of the state's Cape Fear Coast. It is about 220 miles south of Greensboro, and generally takes about four hours to reach via I-40. Kure Beach features long stretches of sandy beach, as well as a boardwalk and a historic fishing pier that dates back to 1923. It also hosts the annual Beach Music Festival held near the pier every summer. Visitors can stay at beachfront motels or rent a cottage or condo, as well as dine at a handful of restaurants. Nearby activities include fishing charters, golf courses and sightseeing at the Fort Fisher State Historic Site.
Nag's Head/Outer Banks
Greensboro is about 250 miles due east from Nag's Head and North Carolina's scenic Outer Banks. The area is roughly four-and-a-half hours from Greensboro on Highway 64. Nag's Head is the area's largest town and unofficial gateway to the Outer Banks, a collection of windswept barrier islands just off the coast that stretch out 130 miles. The region is known for its natural sand dunes, as well as its colorful history. Home to Roanoke Island and Kitty Hawk, the Outer Banks is perhaps most famous as a former pirate's cove. Its shallow underwater geography led to a number of shipwrecks and pirate ambushes. Although there are some hotels and resorts in the region, the majority of visitors rent beach cottages and homes during their stay. Visitors can enjoy two public fishing piers and several nature trails in the Jockey's Ridge State Park.