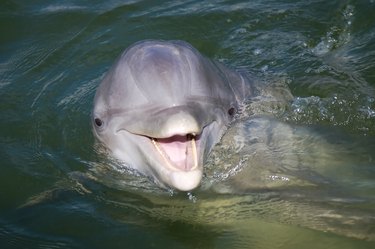 Dolphins are protected under the U.S. Marine Mammal Protection Act, and swimming with these wild creatures is prohibited by law. That doesn't mean that you can't get up close and personal with a dolphin in South Carolina. Many locations offer dolphin tours that allow you to experience these magnificent animals up close while still respecting the laws made to protect them.
Hilton Head
Head to Dolphin Discoveries for a two-hour boat tour, limited to just six people at a time. This company guarantees a dolphin sighting on every tour, and has even nicknamed some of the area's friendlier dolphins, such as Big Bob, Blackbeard and Little Baby Stripes.
Sonny C. Charters also guarantees dolphin sightings on his 90-minute dolphin and nature tour. This excursion takes you through Broad Creek to Calibogue Sound, where you'll have plenty of chances to see the bottlenose dolphins that make their home in this area. Charters also offers a special two-and-a-half-hour Dolphin, Fireworks, and Nature-Lover Cruise from June 13 to August 18.
Dolphin Encounters Near Charleston
Let Charleston Outdoor Adventures take you on a 90-minute dolphin eco-tour or a sunset dolphin cruise. National Geographic Magazine recommended this company, which also offers paddle board and kayak tours, among it's best summer weekend adventures. These tours take you through the waters surrounding Folly Beach, where dolphins play and strand feed in the water.
Kiawah Island Golf Resort also offers a dolphin encounter excursion. Board the resort's eco-tour boat and take a ride through the creeks and inlets of Kiawah, where you're bound to get an up-close view of the many dolphins that live nearby.
See Dolphins in Myrtle Beach
Head to the Crazy Sisters Marina on Murrells Inlet to board the Osprey, Blue Wave Adventures' dolphin watch vessel. The Osprey operates seven days a week from March through November, and Capt. Mark Collins & Amy Collins estimate an overall dolphin contact rate of 85 percent.
To get even closer to dolphins in Myrtle Beach, book a Jet Ski excursion with Thomas Outdoors Watersports. This 40-mile round-trip adventure takes approximately two hours, and you'll see dolphins so close that you might even get splashed by them. Thomas Outdoors Watersports also offers a private two-hour tour that comes with a dolphin watch T-shirt.
Dolphins at Edisto
Botany Bay Ecotours offers 75-minute dolphin boat tours from March 1 to October 31, as well as private and special group tours. Though Botany Bay can't guarantee a dolphin sighting, they do guarantee that you'll learn plenty of interesting facts about dolphins and the waters of the ACE (Ashepoo, Edisto and Combahee Rivers) Basin.
To see more dolphins in Edisto, head to the marina on Big Bay Creek. The water near the marsh in this area is a popular dolphin hang-out spot, and you don't have to pay a dime to see these creatures from this location. Keep in mind that autumn is generally the best time to see dolphins in the area.