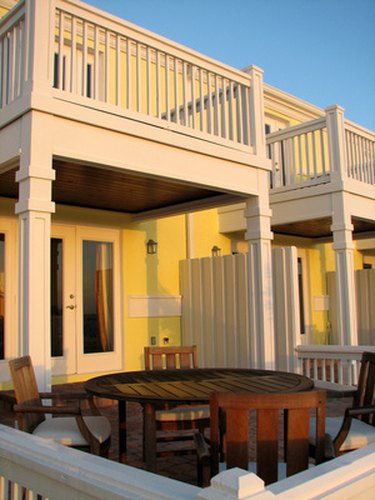 The Minnesota Department of Labor & Industry is home to its Construction Codes and Licensing Division. Through this department, the State of Minnesota has adopted the State Building Codes that are also known collectively as the Minnesota State Building Code (MSBC). The MSBC has safety requirements relating to construction issues such as plumbing and electrical. Though specific residential code requirements must be obtained from community municipal buildings, there are still general requirements for building a deck onto a home.
Inspections
When building a residential deck, three separate inspections must take place during the construction project. First an inspection of the footing must take place after the holes for the deck are dug, but before the pouring of the concrete begins. Next, an inspection after the framing is complete must occur. This inspection can happen at the final inspection if two factors are in place: all framing parts are visible and the building official or inspector has given permission. Lastly, the final inspection is done once the deck is finished and the project is completed.
Permits
Home owners must obtain a building permit for all decks attached to the home or for decks that are 30 inches or more above grade. Decks shorter than 30 inches above grade do not require a building permit but may instead require a zoning or land-use permit. When obtaining a permit is required, the proposed deck has to first meet the land-use requirements of the community zoning code for where the deck is to be built. Contact local planning and zoning departments prior to attempting to obtain a building permit to ensure all community zoning requirements are met.
Pressure-Treated Wood
Whenever a deck's construction is going to use pressure-preservative-treated wood, the wood must be in compliance with the American Wood Preservers Association UI Standards with regard to exterior exposure and above ground and ground contact. Acceptable lumber carries the stamp or end tag of an approved inspection agency. Homeowners, deck designers, and deck builders are responsible for making certain that the hardware used, such as the nails and brackets, is in compliance for the standards set in reference to that type of pressure-treated wood. This standard also applies to the sill plates and posts as well.