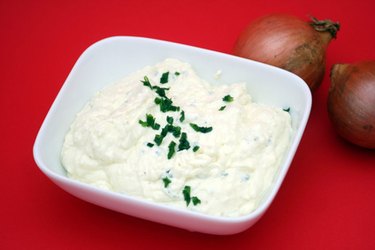 Curd cheese is young cheddar cheese in it's freshest state, before it is aged and formed into blocks. Different than the cheese found in most supermarkets, curd cheeses lose taste the longer they are stored and refrigerated. This makes them quite expensive, so many home cooks opt for more common substitutes that will not significantly change the taste of the recipe.
Cottage Cheese
This mild cheese is versatile, a good source of protein, and a common substitute for the pricey curd cheeses. It's generally available in small or large curds, and both work equally well. For best results, try to use cottage cheese within a few days of buying it.
Ricotta Cheese
Ricotta cheese is a more expensive and sweeter than cottage cheese, and is most often substituted for curd cheeses in dessert recipes. Low-fat and nonfat versions are readily available. All varieties should be used within three to five days of purchase for best flavor.
Cream Cheese
Cream cheese also comes in full-fat, low-fat and nonfat varieties. It can be a good substitute for curd cheese in savory recipes but is not generally recommended for deserts. Cream cheese can be stored for up to a month, making it an economical choice.