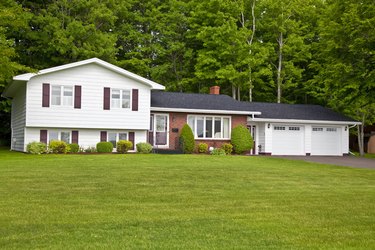 If you have a split entry on your home, you can create more space and gain some curb appeal by adding an addition. Known for their small spaces and cramped staircases, split level, bi-level and tri-level homes often feature a split entry. An entry doorway located on a small separate landing from the floor above and below, split entryways normally have both a stairway leading up and one leading down, causing a tight spot when you first enter.
Add a Foyer
If your split entry seems too tight to maneuver, adding a short foyer may solve your problems. A foyer, or small hallway, can provide more space as guests enter your home and make the staircase less immediate, creating both a more visually appealing area and a less accident prone one. However, as you plan, be sure to take your home's exterior into consideration. An extended foyer may not be the best option for your split entry home addition if the entry to your home is on the edge of a hill.
Add a Porch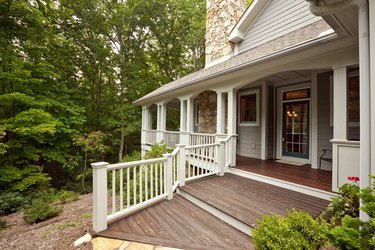 If the odd exterior look is what's bugging you, think about adding a porch or deck. Because split entry homes feature a door in the middle of the home between levels, the doorway can look visually unappealing. Make your entryway standout by adding a porch with a broad banister railing that helps to create two distinct visual levels. If the outside still seems too stark for your taste, add visual detail elements, such as intricate posts or hand-carved pieces.
Add a Two Story Addition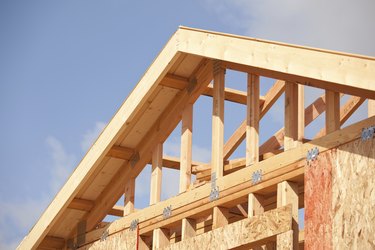 You typically don't want to add another level to a split-level home. However, you may be able to extend both levels to get rid of your split entryway. If the land your home sits on lends itself to the plan, simply extend your home out far enough that the entryway can either be located on the top level or the bottom level. As you plan, keep in mind that if there's still some difference between where the land stops and where the top level starts, you can always add a porch or deck with a set of stairs further out.