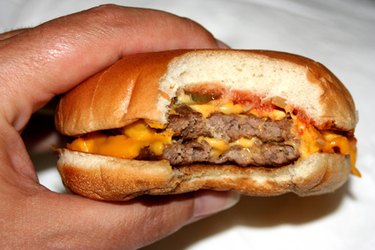 If you're having a Jimmy Buffett-themed, you're in luck for food ideas; he included a lot of food and drink references in many of his songs. "Cheeseburger in Paradise" and "Margaritaville" have them right in the title. Other songs like "I Wish Lunch Could Last Forever" also include ideas for your party.
Cheeseburgers and Beer
Whether you grill up full-size burgers or serve mini-burgers, cheeseburgers are a must at a Buffett-themed party. To make them Buffett-approved, cook them medium-rare and serve with an onion slice, mustard, lettuce, tomato, Heinz 57 and french fried potatoes on the side. Don't forget the big kosher pickle and cold draft beer.
Margaritas
The margarita is the perfect cocktail to serve at a Jimmy Buffet party--after all, he named his own restaurant Margaritaville. A classic margarita mixes tequila with triple sec and lime juice. Be sure to rim all your glasses with a generous portion of salt and serve on the rocks or frozen, whichever you prefer. Jimmy Buffet wasn't picky.
Grilled Fish
In "I Wish Lunch Could Last Forever," Buffett savors the scent of fish on the grill. Get some fish, preferably a fresh catch, and season it up with spices, then begin the barbecuing.
Pina Colada
"If you like pina coladas ..." you and Jimmy Buffett will get along just fine. Although he didn't originally write or record "The Pina Colada Song"--Rupert Holmes did--pina coladas are another beverage staple that fits perfectly at a Buffett-themed party. This frozen drink is easily prepared with hard rum, cream of coconut and pineapple juice--serve blended or on ice.
Coconut Tart
In "I Wish Lunch Could Last Forever," Buffett sang "We'll begin with dessert a little coconut tart." A coconut tart can be prepared by simply combining eggs, sugar, melted butter, lemon juice and vanilla extract. Stir in flaked coconut and then pour the mixture into individual tart shells, baking for about 40 minutes at 350 degrees. Allow to cool and then serve to your guests. Jimmy Buffett would be proud.