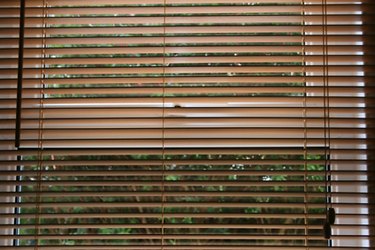 Blackout blinds usually can be pulled up or down by rolling and have the ability to darken a room further than typical blinds. Slat blinds still allow sunlight to seep in between the slats. Blackout blinds may be appropriate in certain rooms where a homeowner would prefer the room to be darker than usual, such as bedrooms. There are tips to help you find the best blackout blinds for your home.
Cellular Blackout Blinds
Choose cellular blackout blinds for a child's bedroom.These blinds have a continuous sheet of pleated fabric and have the ability to cover all areas of the window, so light does not peek in. These blinds are often less expensive than other blackout blinds because the fabric is cheaper than others. Cellular blackout shades can help you save money on your electric bill because they do such a good job of keeping light out and heat in.
Blackout Roller Blinds
Consider blackout roller blinds if you are looking for a more elegant look. Instead of slat blinds that work by tilting the slats with a tilt rod, these blinds have fabric that can just be rolled up with your hands. Blackout roller blinds have heat resistant fabric that helps keep light out and heat in,, which makes them one of the best blackout blinds. The downside is that the blinds can get dirty easily because of the fabric if you have young children or pets.
Blackout Roman Blinds
Pick blackout roman shades for your living room or bedroom. These blinds work similar to cellular blinds and consist of a continuous sheet of fabric. They are also insulated in keeping light out and heat in and can save you money in lowering your heat bills.
Installing Blackout Blinds
Installing blackout blinds is a little different than typical slat blinds. You must mount the blinds outside the window frame and place each bracket about 3 inches outside the frame on both sides, so light does not peek in through the sides or you would defeat the purpose. Installing hold-down brackets at the bottom of the blinds will prevent them from moving at the bottom and light will not come in.