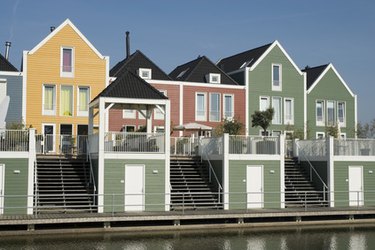 Whether you're planning a family outing to the Caribbean or just want to bring a touch of the warmth and color of the islands to your home, crafting with a Caribbean flair is a fun project for you and your kids. The Caribbean is a perfect theme for family crafting--its islands are known for bright tropical towns and crystal blue oceans filled with colorful fish. Bring home a bit of the Caribbean to your home with some fun crafts for kids.
Under the Sea Mural
Have your child trace several different starfish shapes on colored construction paper. Have him cut out the starfish or you can cut them for him. With your help, have your child cut out fish, squid, octopuses, dolphins and a mermaid from construction paper. If your child is young, you can cut out all the sea creature shapes for him. Have your child decorate the sea creatures with crayons, markers, feathers, pipe cleaners and beads. When the sea creatures are ready, paste the creatures onto a large sheet of blue paper for the ocean. The mural can decorate your kid's room.
Seashell Necklace
Have your child choose a favorite shell from her seashell collection to use for a trendy and wearable necklace. Using colored wire (found at craft stores), wrap the shell with the wire about six times so the wire acts as a frame for the shell. Finish by forming a loop with the wire on the top of the shell and wrap the wire around the base of the loop to secure the loop. Cut the excess wire with a scissor or wire cutter. String the shell onto a piece of colored string or leather and wear.
Palm Tree
Have your child paint a paper towel roll brown with poster paint. Allow it to dry. Have your child cut green construction paper into palm tree leaf shapes. Glue onto the top of the palm tree trunk. Use three small, inflated balloons for coconuts and glue onto the top of the tree leaves. "Plant" the tree into a clay pot filled with sand or soil.
Caribbean Keepsake Box
Have your child cut out pictures from magazines of the Caribbean (old travel magazine are especially great for this). Have her glue the pictures onto a shoe box or cigar box. Finish off by spraying shellac onto the box and allow to dry. This box can be used to store her postcards, seashells and memories from your wonderful Caribbean vacation or to hold any other cherished keepsakes.