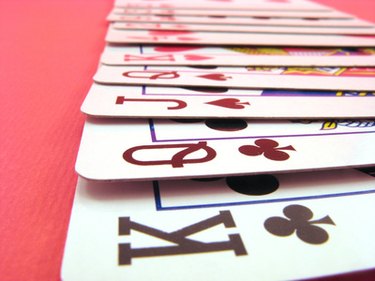 Bridge parties are a traditional social event for women in America. Since the game of bridge found popularity in the 1920's, bridge parties have been used as a means of bringing together neighbors and close friends for a bit of friendly competition. Food has always played an important role in bridge parties, as many women use the parties to try out new recipes and visit over a simple meal. When planning a menu for a bridge party consider small, simple finger foods, as these will not get in the way while you are playing cards.
Finger Food Entrees
Tiny finger sandwiches are one of the most common foods at bridge parties. These are perfect to use as an entree, because they are mess-free and will allow all of the players to continue playing while eating. A sandwich made from two slices of bread cut into fourths can create four finger sandwiches for your party. Cucumber sandwiches and ham spread sandwiches are two very simple recipes to prepare and make that your guests will enjoy. The sandwiches can be as simple or elaborate as your occasion will be.
If you don't want to serve sandwiches at your bridge party, there are other finger food options you can try. Pinwheels, pigs-in-a-blanket, miniature cheeseburgers and crab-stuffed mushrooms are all examples of finger food entrees you might consider.
Simple Snacks
It's important to offer a variety of snack or side dishes for your guests to munch on throughout the bridge party. A traditional snack found at bridge parties is made from a combination of a well-known breakfast cereal and nuts. Bridge mix is also traditional--a variety of nuts and fruits covered in chocolate. Other healthier alternatives to consider are raw vegetables with dip, fresh fruit cut into bite-sized pieces with a yogurt dip, pretzels, toasted pecans and mixed cheeses with crackers.
For some of these ideas, a gracious host will provide toothpicks or a similar method for guests to spear their foods, in order to keep food off of fingers so the cards remain tidy.
Beverages
Depending on the weather and time of year, you may choose to serve hot or iced beverages at your bridge party. Hot tea with lemon or cream and sugar is a common beverage choice at these type of social events. Iced options could include flavored ice teas, lemonade or a homemade fruit punch.
Dessert
Cookies are a simple easy to prepare dessert option for a bridge party. However, cookies are not as common as small bite-sized cakes and pastries. Miniature fancy cakes traditionally called petits fours, cupcakes or danishes are all finger food desserts that would be appropriate and that your guests will enjoy.