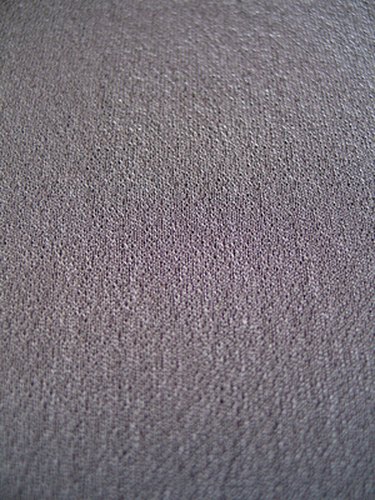 Knit fabrics are versatile and are used to create not only clothing, but certain home furnishings as well. Made from interlocking stitches, knits are available in five different categories: firm, stable double knits that don't have a lot of stretch; single knits, which are lightweight; textured knits, such as velour or terry cloth; two-way stretch knits, which have a lot of stretch in them; and ribbing, which is for finishing garments, like the necklines of T-shirts.
Clothing
Clothing is the most popular item to make with knits because of the many varieties of knit fabrics available. Use jersey, which is a single knit, to make clothing with a soft, fluid design, suggests Claire Shaeffer in her book "Claire Shaeffer's Fabric Sewing Guide," such as dresses, T-shirts, soft jackets and coats. Use double knits to create jackets, coats and pants. Interlock knits are suitable for evening wear and lingerie. Tricot is perfect for active wear, such as leotards and bathing suits. Sweater knits can be used to make tops, sweater dresses and skirts.
Curtains
Although knits are mainly considered for clothing, stable knits are an excellent choice for curtains. Although these types of fabrics retain their original shape easier, according to Crystal McDougald in "Vogue Sewing," their knit construction allows the fabric to drape well, especially when tiebacks are used. Also consider stretch woven fabrics, such as gabardine or satin, for use in curtains for a more tailored look.
Blankets, Towels and Pillows
Because knits stretch, only certain types can be used for blankets, towels and pillows. Fleece knits, which are easy to sew, can be used to make blankets, according to the Reader's Digest "New Complete Guide to Sewing." Stretch terry cloth, which is bulky, is perfect for use in beach, bath and hand towels, where complicated seams are unnecessary. Raschel knits, which are soft and lofty, are suited for projects such as throw and decorative pillows, where bulky seams are not a concern.