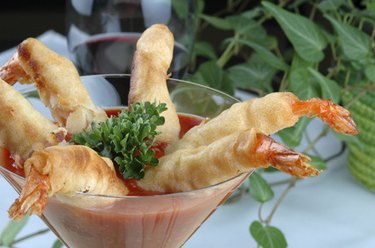 A 50th birthday is a milestone and the occasion is often celebrated with a party for family and friends. Whether the party is large or small, preparing food is always a time-consuming task. To make this task easier, serve finger foods at the birthday party. With just a bit of time and preparation, a variety of delicious finger foods can be served for a 50th birthday party.
Meat Options
Kabobs are a popular menu choice for finger foods; their versatility allows you to include the ingredients you most prefer. An easy kabob might include cocktail wieners, olives and cheese cubes. For a more formal kabob, use grilled chicken cubes, along with grilled peppers and onions. Other finger food options with meat include meatballs, mini-sub sandwiches and pigs in a blanket, which feature sausages wrapped in dough. Fish options might include breaded fish sticks or shrimp with cocktail sauce.
Vegetable Options
Vegetable or fruit kabobs are an easy meat-free finger food option. A fruit kabob might include strawberries, grapes, melon chunks and cheese cubes. A vegetable kabob could include cherry tomatoes, bell pepper slices, mushrooms and cucumbers. Another popular vegetarian finger food option is to serve hollowed-out cherry tomatoes filled with a cream cheese mixture and your favorite mix-ins, such as black olives or chives. Or, for a hot menu item, serve mini-pizzas. Use English muffins and allow guests to top with their favorite toppings, such as a variety of cheeses, onions, olives, mushrooms, peppers and artichokes.
Retro Options
For an interesting twist to the birthday party menu, serve finger foods that represent the birthday person's childhood. For example, for someone turning 50 in the year 2010, serve foods that were popular during the 1960s. For example, according to FoodTimeline.com, the 1960s "encouraged showy, complicated foods with French influence, suburban devotion, vegetarian curiosity and ethnic cuisine."
Swedish meatballs and Buffalo wings were both popular during the 1960s; fortunately, these finger foods are perfect for a birthday party. Fondue was also popular during the decade; serve cheese fondue with small cubes of bread, vegetables or small pieces of meat on a toothpick. "Shake 'n Bake" breading was introduced by General Foods in 1965; use this seasoning mix to bread chicken chunks for the 50th birthday party. Additionally, Nabisco's "Easy Cheese" was introduced in 1966. Provide trays of crackers and several cans of Easy Cheese to party guests; guests will certainly enjoy creating cracker-and-cheese towers while enjoying an old favorite food. Or serve finger foods with a retro-diner theme. Serve guests mini-hamburgers, along with paper cones filled with French fries, and mini-milkshakes.