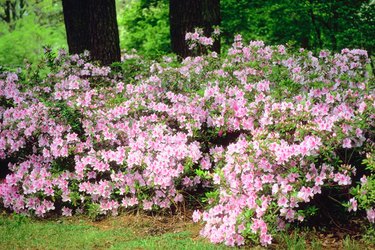 Part of the rhododendron family, azaleas are a flowering shrub or bush. There are many different types, shapes and colors of azaleas. Known for blooming two to three times a year, azaleas are an adaptable flower to climates, sun and location. Most commonly planted in partial sun, azaleas can thrive almost anywhere. Azaleas generally need the most attention during their first year of planting.
Autumn Embers Azalea
The Autumn Embers is a "flowering bush" that blooms three times a year during the spring, summer and fall months. This type of Azalea is both a red and orange hue that can be planted on its own or with other flowers. Brighter Blooms recommends keeping at least 2 feet of spacing between the Autumn Embers and other plants and flowers. Autumn Embers grow best when planted where there is partial sun and only watered when the soil, 2 to 3 inches in the ground, is dry.
Autumn Angel Azalea
Autumn Angel Azalea is a white flower bush that blooms during the spring, summer and fall, for a total of nine months out of the year. The Autumn Angel grows to three feet tall and three feet wide. This flowering bush grows best in full sun, but is "adaptable" to most spots. Fertilizing and watering is important during the first year the Autumn Angel is planted. Brighter Blooms claims, "once azaleas have developed strong roots in the soil they will exhibit their excellent drought tolerance." Autumn Angel can be planted with other plants and flowers.
Autumn Royalty Azalea
The Autumn Royalty is a purple hue that was voted by the American Rhododendron Society as the "2004 Azalea of the year." The Autumn Royalty blooms nine months out of the year during the spring, summer and fall. According to Brighter Blooms this type of azalea can grow to be four to five feet tall and four feet wide. The Autumn Royalty grows best in partial sin but can adapt to both full sun and shade. This flowering bush doesn't need to be fertilized or pruned.