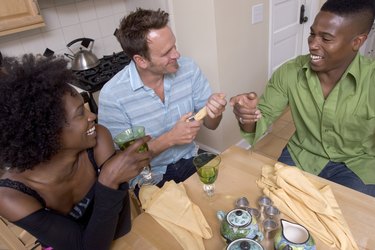 Everyone loves a laugh, and a comedy theme party will inspire friends and loved ones to celebrate the joy of laughter. Use this theme party concept when honoring a loved one who is particularly known for his love of comedy. Just remember that the first rule of comedy is timing. Plan your comedy theme party with plenty of thought, and the punchline will be sure to deliver.
Invites and Music Planning
Announce your comedy theme party through clever invitations so your guests know what to expect. Phrase the invite like a knock-knock joke or with some other well-known comedic setup. Imagery could consist of famous comedians, rubber chickens, or the famous comedy mask icon of the theater. Tell your guests to come prepared with their favorite joke, or to dress as their favorite comedian or character from a comedy movie or television show. For a soundtrack, stock up on musical comedy artists such as Weird Al Yankovic, Garfunkel and Oates, Tenacious D, Jon Lajoie, Reggie Watts, Flight of the Conchords and The Lonely Island.
Party Favors and Decorations
Visit a local gag shop and stock up on funny items like whoopee cushions, rubber chickens and fake vomit. These types of goofy gifts make for both party favors for guests and odd-ball decorations for your comedy theme party. Other ideas for party favors include joke books, comedy albums and chocolate microphones from a local candy maker. For further decorations, cardboard cutouts of famous comedians, or print-outs of their pictures can be displayed prominently. Don't forget the Silly String and confetti.
Food and Drinks
Plan your menu and bar as you would for any party of the same size, but pepper it with silly items. Often-joked-about food items such as spotted dick and head cheese are a nice touch. Put a gag peanut brittle can that pops open for a scare in the center of your buffet. For drinks, serve any of your favorite cocktails, but give them funny names for the night, or name them after famous comedians. For instance, a red-colored drink such as a cosmopolitan can become the Lucile Ball at a comedy theme party.
Games and Entertainment
For entertainment at your comedy theme party, play DVDs of stand-up specials or a favorite sketch comedy show. Classic black-and-white Charlie Chaplin, Laurel and Hardy or Abbott and Costello movies play silently in the background the rest of the time. Invite your guests to tell their best joke, with the person getting the best laugh winning a prize. Set up a stage-like area with a spotlight and a microphone. Hire a professional standup comedian or local improvisational comedy troop to perform for the event.