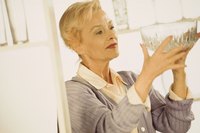 Crystal bowls make beautiful wedding, anniversary and house warming gifts. Chances are you have one tucked back in a cabinet or closet. Dust it off and put it in the spotlight as a centerpiece accompanied by beautiful flowers, fruit or votive candles. If you don't own a crystal bowl, pick up one or more in a variety of sizes and designs.
Flowers
Consider a crystal bowl filled with water and fresh flowers. Use glass stones or marble to anchor the stems. This centerpiece may be used often, but the idea doesn't have to be seen like an old standby. With the endless array of bowls, flowers and greenery just waiting to be selected, the finished table can always seem fresh and appealing.
Floating Centerpiece
Choose a large crystal bowl and fill it with water and floating fresh flowers, votives or both. This is another idea that keeps coming back, but new and innovative floating candles have added more potential for floating centerpieces. Choices now include lemon and orange slices, grapes leaves, roses, orchids, gardenias, daisies and sunflowers. Also available are festive floating snowflakes, poinsettias, stars, candy cane rounds, pumpkins and hearts for the holidays. For last-minute or spur-of-the-moment events, use a floating candle centerpiece kit.
Crystal Bowls
Create a centerpiece from several crystal bowls of different sizes filled with stones, candies, glass gems, acrylic diamonds or sea glass. Objects of a single color or in the same color family are especially beautiful when used this way. Scattering the pieces used in the bowls on the table itself will add extra texture and color. For the winter holidays, fill bowls with glass ornaments to make a stunning centerpiece.
Fruit Bowl
Showcase fruit in a simple centerpiece. With so many types available year 'round, it's a simple task to choose a fruit based on your color theme. Lemons or limes are favorites because they are small and firm, making them easy to use in almost any bowl. Cranberries are plentiful in most areas during early winter, just in time for a holiday centerpiece. Sugar-frosted grapes are stunning when heaped by the bunch in a delicate bowl. The gorgeous colors of pomegranates make them stand out in a centerpiece.
Punch Bowl
Fill a large punch bowl with a tempting fresh fruit salad. Surround the bowl with matching punch cups offering toppings such as chopped pecans, shreds of coconut, edible flowers, miniature marshmallows, granola or maraschino cherries. Complete the punch bowl centerpiece by using the ladle as a serving spoon. For even more fun, add a beautifully decorated cake or cookies served on a crystal cake stand. Guests can anticipate dessert while enjoying their dinner.