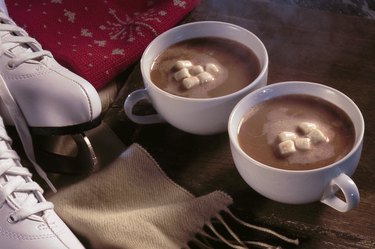 A winter birthday offers plenty of opportunity to have a truly unique and super-fun Sweet Sixteen party, as winter is an excellent time for themed parties. In addition, many of the party ideas listed here are relatively inexpensive and easy to put together.
Winter Wonderland
Create an indoor--or use the natural outdoor--winter wonderland to host your party. Have lots of snow and twinkly lights and keep it cold so everyone has to wear their coats and hats. Serve warm cider, hot chocolate, and lots of baked goodies. Hire a DJ and consider setting up a dance floor if you're indoors, or finding a place to ice skate if you're outdoors.
Alternatively, choose one aspect of winter weather to focus on. For example, take the idea that every teen girl is like a snowflake, unique and special--and make that the theme of your party. Decorate with paper snowflakes hanging from the ceiling and confetti snowflakes scattered across tables. Have each guest name one thing about the birthday girl that makes her unique or tell a special story.
Winter Activities
Winter activities lay the perfect foundation for a Sweet Sixteen party. Ice skating is fun and almost anyone can do it, while skiing may be better-suited to a smaller, more intimate party. However, there are a number of less active winter activities that can easily be adapted to a Sweet Sixteen party. Hire a horse and carriage for a sleigh-riding party, go sledding or tobogganing, or simply find a big back yard or field for making snowmen and having a snowball fight.
Christmas
Why not make your Sweet Sixteen party a Christmas celebration? Use traditional Christmas decorations (e.g., Christmas tree, lights, poinsettias, red velvet ribbons, bells) and serve a Christmas dinner. Give each guest a small gift such as homemade cookies or candy or Christmas crackers with small gifts inside. Play only Christmas music or go caroling.
Formal Parties
Since every Sweet Sixteen birthday girl wants to feel like a princess on her special day, have a winter ball. Specify on the invitations that everyone should dress in formal clothing--or have a "White Party" and have everyone wearing white. If you're having a large party, serve only punch and hors d'oeuvres to save on costs, or have a formal sit-down dinner for a smaller gathering. When it's time for dancing, let the birthday girl lead the way and lower the lights or use candlelight.