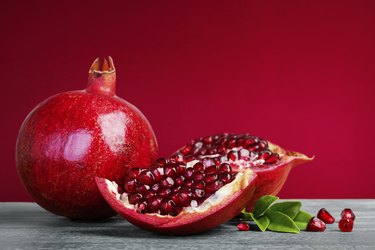 Pomegranate season is September through February, and the seeds (also known as arils) are great for adding to fall and winter recipes. Full of Vitamins C and K, pomegranates contain antioxidants and have been pegged as a cancer-fighting food.
While their thick peel and complicated interior seem intimidating, pomegranates are quite easy to de-seed. From salads to sauces, pomegranate arils and juice can be used in a variety of recipes. Simply follow this tutorial on How to Clean a Pomegranate, and incorporate the tasty, vibrant fruit into your cooking.
Guacamole (& Salsa!)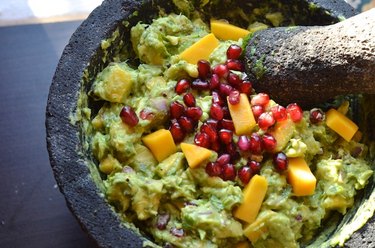 Their sweet flavor and poppy-seed texture make pomegranate arils ideal for guacamole and salsa recipes. Unique and colorful Guacamole with Mango and Pomegranate from Always Order Dessert is a festive dip for your holiday get togethers. Try it on tacos!
Quinoa Salad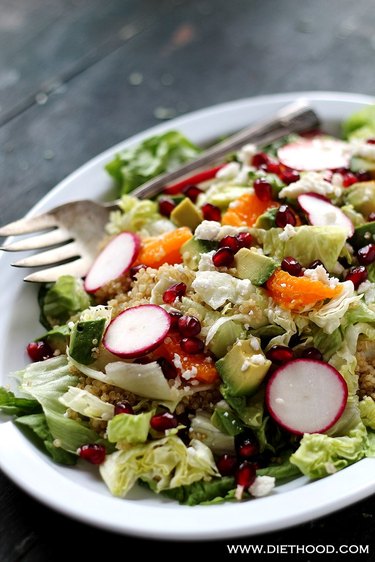 Adding seasonal fruit to a salad is a healthy way of infusing flavor and texture. This Pomegranate Citrus Quinoa Salad with Cranberry Pomegranate Vinaigrette from Diethood is a healthy double-dose of pomegranate.
Sangria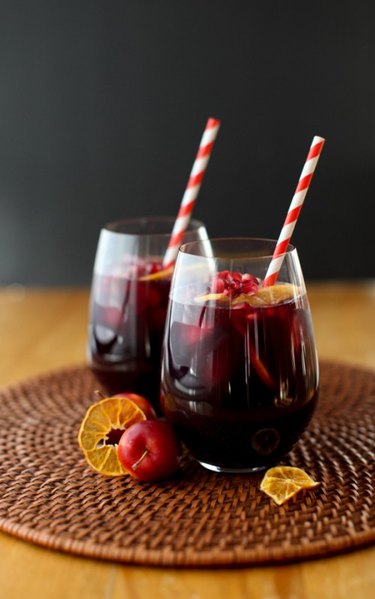 Although we tend to think of summertime as the season for cocktails, refreshing alcoholic beverages can be enjoyed year-round -- and even better if they come with health benefits! Enjoy a good seasonal cocktail? Try this Winter Sangria with Citrus and Pomegranate from Simple Bites.
Rice
It's smart to have recipes for tasty and comforting side dishes at an arm's length throughout the holiday season. Try this Persian Jeweled Rice from The View from Great Island for a fun, filling, and flavorful side dish that is sure to please any crowd.
Appetizer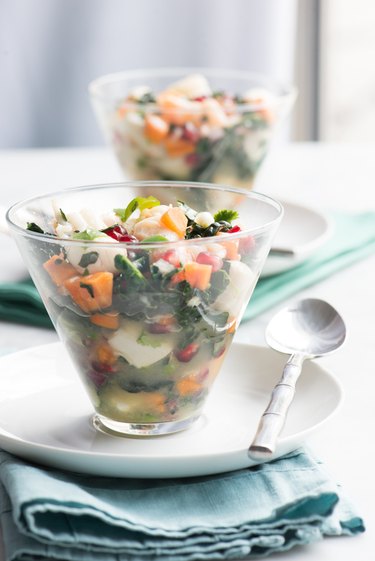 Bright pomegranate seeds are perfect for adding to your appetizers to make for a beautiful and fresh presentation. This inventive Wintertime Ceviche from Pineapple and Coconut will surely draw attention at your holiday gatherings.
Roasted Vegetables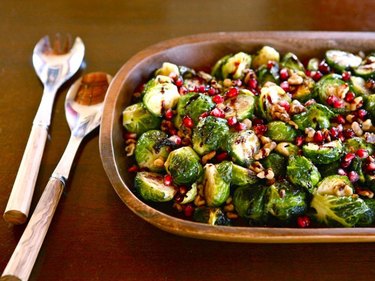 Adding a little tangy sweetness to your roasted vegetables is a sure way of making them absolutely delicious. Take this Roasted Brussels Sprouts with Pomegranate Molasses recipe from Tori Avery, for instance. This beautiful and healthy vegetable dish is a winner!
Marinade for Meat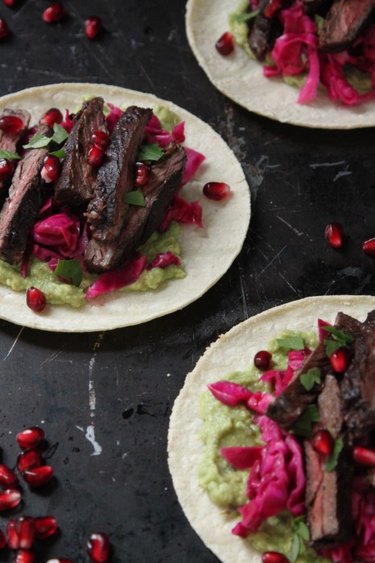 There are just as many uses for pomegranate juice as there are for pomegranate seeds. Using pomegranate juice for a marinade or a reduction sauce adds wonderful flavor to any meat dish, particularly steak, duck, and venison. Try these Pomegranate-Glazed Skirt Steak Tacos from The Corner Kitchen for a flavor-infused date night meal.
Ice Cream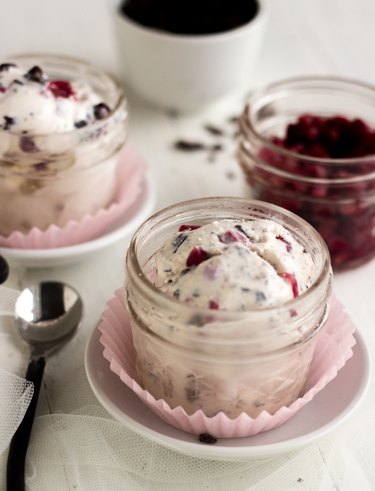 From cherries to bananas, we add a wide array of fruit to our homemade ice cream recipes. So why not add pomegranate seeds? Chunks of dark chocolate team up with pomegranate to make this Healthy Ice Cream recipe from Food Faith Fitness a delicious and decadent treat.
Grain Salad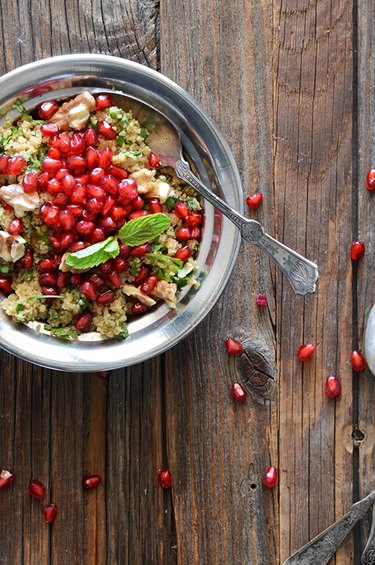 Although the weather gets chilly in the fall and winter months, we don't have to wave goodbye to salads. Incorporating fresh, seasonal produce into grain salads makes for a hearty yet healthful meal. An Edible Mosaic shows us the way with this Bulgar Wheat Salad with Pomegranate and Walnut.
Chocolate Tart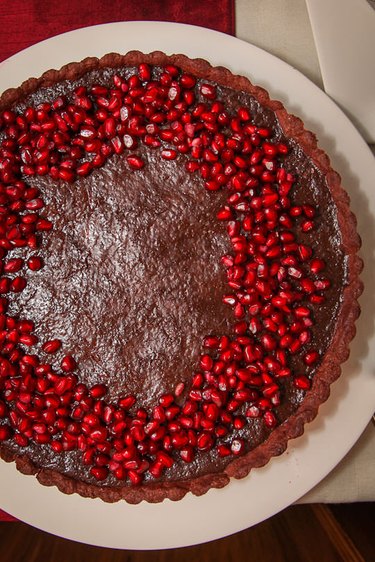 Looking for new desserts to share with your friends and family over the holiday season? Pomegranates and chocolate are a match made in heaven. Eat the Love presents a mouthwatering Pomegranate Dark Chocolate Tart, combining homemade pomegranate molasses with always delicious dark chocolate.