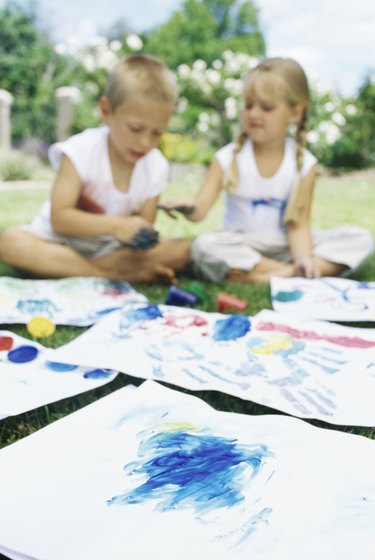 As parents or educators there are many reasons you want to know the ingredients in your art supplies, especially those that the kids will be directly touching with their hands, like finger paint. While Crayola doesn't want to give away the secret recipe for their finger paints, they do disclose what allergens their paints contain, or do not contain.
Dependant on Manufacturer
Some Crayola products are officially licensed to be produced by other manufacturers, which means that while the packaging will contain the Crayola logo, the product inside is not produced directly by Crayola. Always check with the manufacturer if your children are allergic to anything that may be found in finger paint.
Allergens
Finger paints manufactured directly by Crayola, as of summer 2011, are gluten free and do not contain nuts including peanuts, legumes, tree nuts or any nut oil, eggs or their shells, cow's milk or any milk protein including casein. This makes Crayola finger paints among the safest and highest rated art supplies for children's use.
Red Food Dye
Crayola finger paints manufactured directly by Crayola do not contain Allura Red dye, also known as Red Dye #40. This dye, while currently approved by the FDA, is very controversial and has been the target of many accusations including that it may affect children's behavior. Until studies are more conclusive on this dye, Crayola has chosen not to use it in their products.
Possible Ingredients
Ingredients commonly found in finger paints and other Crayola products include baking soda, citric acid, mannitol, polyethylene glycol used for its texture, sodium benzoate used as a preservative, mineral oil and various food colorings. Crayola also states that the ingredients in their products may be handled by latex glove-covered hands.