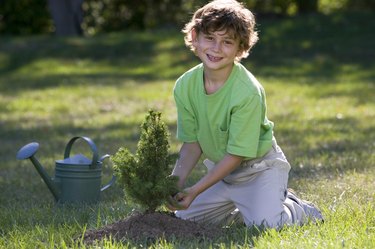 Federal, state and local governments provide grants for neighborhood tree planting projects. Tree planting grants are provided to urban communities for beautification projects and also for areas that have been damaged by natural and human causes. Trees provide many benefits to society. They remove dust, ash and smoke from the air. They also help slow the movement of storm water, which reduces soil erosion and flooding. Tress also increase the market value of a home. Tree planting grants typically require communities and residents to get involved in the tree planting process
Recovery Act Tree Planting Grant
In 2010, the American Recovery and Reinvestment Act of 2009 provided $144,644 to Groundwork USA to plant trees and provide landscaping services across the country. Groundwork USA works with inner city teens and trains them for outdoor conservation work. The summer Green Team Program employs high school students and also helps them to develop leadership skills. For this grant program, teens worked along side of National Park Service Staff to plant trees and shrubs in a rough environment.
State Grant Programs
States agencies also provide grant funding for tree planting initiatives. The State of California Department of Forestry and Fire Protection's Green Trees for the Golden State grant program provides funding for tree planting projects in urban areas. Grants between $30,000 and $100,000 are awarded to local governments, businesses and residents, as well as nonprofit agencies. In 2011, the Michigan Department of Natural Resources Energy Foundation awarded 32 grants to local communities for tree planting projects. It is estimated that the grants will be used to purchase 1,000 trees.
Local Government Grants
Contact your city or county department to find out if there are any tree planting grants available. Kirkwood community in Greensboro, North Carolina received a grant from the city's NeighborWoods Program to plant 150 trees. NeighborWoods provides the trees and the mulch. Residents and volunteers plant, water and mulch the trees on the designated tree planting day. Olympia, Washington's Neighborhood Matching Grant Program provides a maximum grant up to $4,000 that can be used to plant trees. Only registered 50(c)(3) nonprofit organizations are eligible to apply for an award. A 50-percent matching contribution is required to participate in the program.
Global ReLeaf Grants
American Forests' Global ReLeaf program has planted more than 33 million trees through its grant program. American Forest forms partnerships with local, state and federal agencies for reforestation projects. To qualify for a grant, the plantable area must be 20 acres or larger and have been damaged by natural disaster such as wildfire, hurricanes or tornadoes. Areas that have been damaged by humans and other causes are also eligible. Grant proposals must have innovative restorative approaches or technology that can be applied elsewhere.