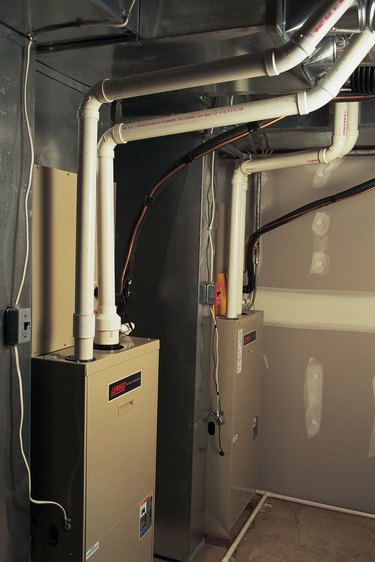 Closets that house water heaters are often overlooked for storage. Even the tiniest wasted spaces in homes, especially smaller ones, cheat a homeowner out of finding ways to make them into functional spaces. Use the empty area in your water heater closet to store rarely used items cluttering up your house.
Storage Solutions
Bringing in bins for items such as water softener salt keeps them out of the way and in easy reach. If you're water heater is stored in a utility closet next to your laundry room, install a few shelves to keep bulk purchases, such as laundry soap and starch. An ironing board may also be folded up and placed along a wall until it is needed. Install hooks for other off-season items, such as gardening tools and holiday lights, along the walls as well. It keeps them organized and out of sight until you are ready to use them.
Warnings
Refrain from putting anything near the burner access as this could create a fire hazard. This is especially true of any item that is flammable, such as extra heating oil or materials such as blankets or linen. Avoid storing items in a water heater closet that are susceptible to moisture damage such as books or papers.
Considerations
For more storage room in your water heater closet, consider investing in a smaller, more energy efficient water heater. They take up less space, cost less in energy bills and still put out the same level of hot water that older models do. If you choose to install a new one yourself to save money, research the safety procedures before starting the project. Something as simple as only installing a valve on the cold water side may prevent future accidents.
Alternatives
If you are looking for a way to create a storage closet around an open hot water heater without building anything, consider placing a large decorative screen or hang up curtains from the floor to the ceiling to conceal it. (Allow for a safe distance between the objects and the heater for safety.) This way you have the walls around the heater also hidden. Use that space for hanging smaller cabinets, open shelving or hooks. Customizing a large peg board to hang utensils or a large corkboard or chalkboard for notes are other options for creating extra usable space.