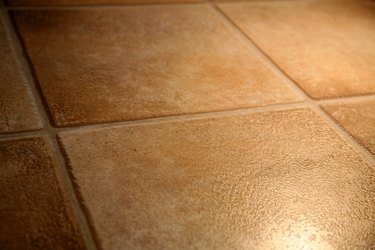 Cement board is an easily installed DIY tile underlayment providing a stable, dependable tile-setting substrate while eliminating the complicated lath-and-mortar "floating" process. Do-it-yourselfers can use either 1/2- or 1/4-inch cement board in certain applications while other scenarios mandate 1/2-inch board. Cement board manufacturers spell out the specifications and proper areas of use for 1/2- and 1/4-inch cement board.
Restrictions apply to cement board wall usage. For example, for strength reasons, manufacturers mandate 1/2-inch (and 5/8-inch) board on walls. The exception to this rule allows 1/4-inch cement board on walls only where there is minimum 5/8-inch exterior-grade plywood sheathing or Oriented Strand Board (OSB) subfloor. Maximum stud spacing on walls is 16 inch off center. Additionally, fastener spacing should not exceed 8 inch off center. Manufacturers require installation of a moisture barrier (4-mil plastic or heavy felt construction paper) under the cement board in wet applications such as a shower surround. Cement board manufacturers also stress that cement board should never be used as a load-bearing member.
Both 1/4- and1/2-inch cement board are appropriate for floors. To install cement board on floors, cement board manufacturers mandate a 5/8-inch plywood subfloor or OSB underlayment. They also require a 3/4-inch subfloor where tile size exceeds 12 inches. Manufacturers also recommend bonding cement board to floors with a 1/4-inch polymer-modified thin-set coating. Additionally, experienced tile setters find that 1/2-inch cement board provides a superior sound/noise barrier in upstairs applications.
One thing that do-it-yourselfers should consider is the difference in manageability between 1/2-inch and 1/4-inch cement board. For example, 1/4-inch board weighs less, is easier to affix to the substrate (with either screws or nails) and is easier to cut. On the other hand, 1/2-inch board can be a real bear to cut and manage at the job site.
Additional Cement Board Benefits
Cement board is extremely hardy, adding to the longevity of your shower. Unlike traditional wallboard (such as drywall and green board), cement board is water- and mold-resistant. It doesn't swell in high-moisture areas and is also fire-safe. Cement board also provides a far superior bond to tile than traditional fiberboard.