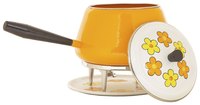 Fondue, from the French "fondre," meaning "to melt," is a French dish of melted cheese, sometimes with wine and other ingredients, served in a pot over a flame. It is meant to be a communal dish. Long forks are used to dip different things into the melted cheese with several people using the same pot at once. While cheese fondues are most traditional, other types of fondue exist, as well.
Breaded Dippings
In "Fondue Bressan," a French oil fondue, meats are dipped in a mix of egg and bread crumbs before being dipped into the pot of oil. As the meats are in the oil, they crisp on the outside and the breadcrumbs harden and adhere to the surface of the meat, creating a lightly fried bit of meat. Vegetables can also be cooked this way for vegetarian fondue enthusiasts.
Fish
The Japanese hot-pot dish of "Shabu-shabu" is a slightly bitter take on oil fondues. A traditional winter-time dish in Japan, Shabu-shabu is usually served with thinly sliced raw fish that is then cooked by being dipped in the hot oil. Mushrooms, lobster, and other foods are also sometimes used in Shabu-shabu.
Meat
The Swiss "Fondue Bourguignonne" is a fondue made from butter and cooking oil into which pieces of meat or vegetables are dipped before eating. Popular dipping options for Fondue Bourguignonne include lean beef, pork, chicken, broccoli, cauliflower, and sweet peppers. This type of fondue gets quite hot, so caution is recommended when preparing and serving it.
Vegetables
"Bagna Cauda" is an Italian take on the classic French fondue recipe. Substituting a hot combination of butter, olive oil, garlic and anchovies, this dish is typically served with fresh vegetables to be dipped in lieu of the more traditional bread offerings. Popular dipping options include carrots, celery, peppers, onions, and artichokes.