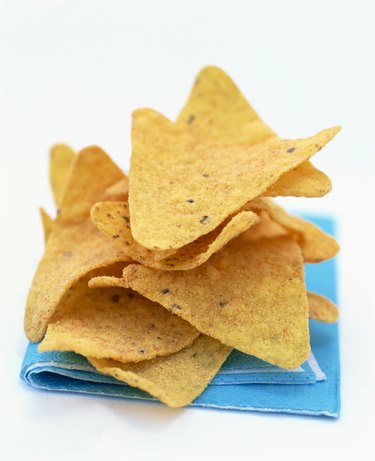 Chips and salsa is the perfect no-fuss snack, but it can get boring after a while. Skip the jar and make a dip of your very own to serve up with a bag or tortilla chips. There are plenty of alternatives to salsa and dips are endlessly customizable. Get inventive and incorporate your favorite ingredients for a unique snack.
Beans
You can make a quick dip by pureeing beans with a few flavorful ingredients. Drain and rinse a can of black beans or white beans. Add the beans to a blender or food processor with 2 tbsp. of lime, lemon or orange juice. If you don't have juice, balsamic, cider or red wine vinegar will work in a pinch. Toss in a clove of garlic, a de-seeded jalapeno, or 1/4 cup of chopped red onion or scallions. Season the whole thing with a tablespoon of fresh cilantro (or a teaspoon of dried cilantro), a teaspoon of cumin and salt and black pepper to taste. Puree the dip until it is smooth and store it in the refrigerator for up to one day.
Cheese
A cheese dip can take the place of salsa while mimicking the flavors of nachos. Combine two parts shredded cheddar cheese along with one part cream cheese and one part mayonnaise or sour cream. Add flavor with diced scallions, jalapenos or jarred hot peppers. Season the dip with salt and pepper, then store it in the refrigerator for an hour or so to allow the flavors to develop. Make a warm cheese dip by substituting processed cheese product for the cheddar, cream cheese and mayonnaise. Heat the dip in the microwave on medium heat in a double boiler or a slow cooker.
Vegetables
Mix together canned and fresh vegetables for a filling, nutritious dip. Rinse and drain a can of corn, then combine it with diced avocado, peppers, onions, tomatoes and anything else you can think of. Stir in minced garlic or cilantro for extra flavor. A tablespoon or two of olive oil and lime juice or vinegar rounds out the dip. Add salt and pepper to taste and serve immediately. If you like, you can mash the veggies with a potato masher for a smoother, creamier consistency.
Meat
Pair tortilla chips with cooked meat for a filling lunch or crowd-pleasing appetizer. Make a chicken salad by combining shredded chicken, chopped onion, peppers, and corn. Mix it together with a few dollops of sour cream and some lime juice, then season it with salt and pepper. You can substitute canned tuna for shredded chicken, if you wish. Ground beef is the perfect base for an inexpensive, warm dip. Combine a pound of cooked ground beef, a can of refried beans and 1 1/2 cups of processed cheese product in a saucepan. Add flavor with canned hot peppers or tomatoes, chopped onion, or minced garlic. Heat the dip over medium heat until the cheese melts, then serve immediately.