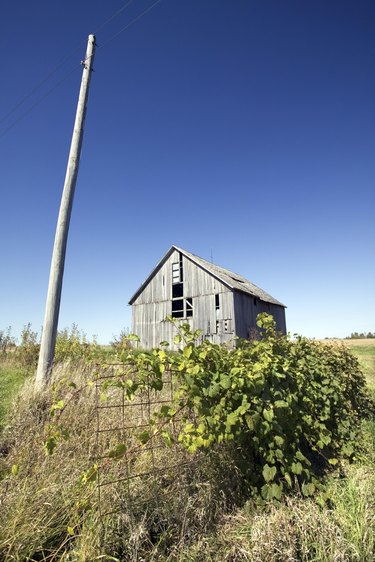 Existing pole barns can be found in many places around the country. Just about all of these old buildings are either built on a concrete slab or gravel floor. With some improvements, these places can be made livable, but crawl space beneath the floor is non-existent. However, with new construction, one option exists of raising the floor a few feet, so that joists, insulation and floor can be put in place, leaving a small but adequate crawl space underneath.
Concrete, Gravel or Raised Floor
Most pole building plans call for a concrete footer under each pole and the installation of a concrete or gravel floor after the building has been framed in. The concrete footers are vital to a strong, erect building, but the gravel or concrete floor may not be the best option for living in a pole barn home. During the beginning of the construction process, the builder should place solid concrete footings beneath each individual vertical pole. This will make for a home that does sag or rise due to frost heave or other foundation problems. However, those who plan to live in a barn pole house need to seriously consider the alternative of a raised floor.
Joist Framing
Any pole home owner when faced with possible floor choices in a pole home barn will probably opt for a raised floor attached to the vertical poles and tied together with a system of wood floor joists. Although not the most economical selection, the standard wood frame floor provides many advantages. An insulated floor, attractive choice of flooring materials and a barrier to insects and rodents comprise the most important reasons to go this route. With only a few adaptions standard joist framing can be adapted to a pole building.
Insulation
Once the joist structure is in place, insulation can be installed underneath the sub-floor. Insulation not only furnishes extra warmth during the winter, but it can also increase the effectiveness for any cooling device that might be employed during hotter summer months. The crawl space needs to be of sufficient height to allow personal access, but if all work is carried out in a professional manner, there should not be much need to crawl under the building.
Access
A raised floor within a pole barn building provides easy access to all plumbing and electrical lines that might be located underneath the central interior of your structure. In fact the higher the first floor, the easier it will be to crawl underneath the building and make the necessary repairs. Of course if you are just throwing up a storage place for farm machinery, a gravel or possibly a concrete ground level work area might fit all your needs. But for anyone planning to live in a pole frame structure, the raised floor approach makes the most sense.