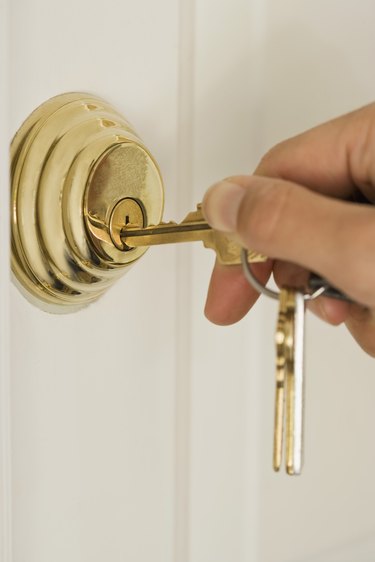 Deadbolts are one of the most secure locks, and are typically used on the inside of exterior doors in addition to a mortise or key-in-knob lock. They are easy to install yourself, and can be installed on any solid door.
How a Deadbolt Works
Deadbolt locks are operated by a thumb-turn located on the trim plate on the interior of the door, or by a key located on either side of the door. The thumb-turn slides the bolt through a strike plate installed inside the door trim. The bolt prohibits the door from opening, and is heavy and less likely to be picked or broken from the outside. Most deadbolt assemblies are a standard size, but you'll need to read the instructions or measure the assembly to choose the correct hole saw bit.
Replacement Locks
It's best to start with a fresh door if you are trying to install a new deadbolt lock, rather than trying to patch an old hole and drill out a new one for the lock assembly. If you must replace an old deadbolt with a new one in a different size, make sure the hole is properly patched with a heavy-duty filler and that the filler has been allowed to properly set before the new installation.
Measuring for the Hole
Most deadbolts come with a paper template that can be taped over the door. You can then create a bore hole in the center, choose the correct drill bit and simply drill the hole without measuring. Otherwise, you will need to measure the diameter of both the cylinder assembly and the bolt assembly. The cylinder is mounted to the interior door trim, close to the jamb, and the bolt assembly is installed inside the narrow edge of the door.
Installing the Lock
To drill the hole and install the lock, you must fit an electric drill with a hole saw in the same size, then drill straight into the door. Then, you can install the cylinder and bolt assemblies, replace the trim and secure it all with screws.