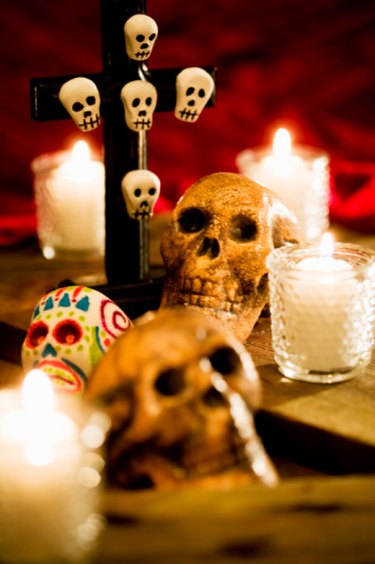 The Day of the Dead, or Dia de los Muertos, is a Mexican holiday coinciding with All Souls' Day, two days after Halloween. In the U.S., the Day of the Dead often is celebrated with elaborate outdoor altars commemorating deceased loved ones -- and also often memorializing political victims -- and with a public procession. People dress for the procession in costumes that honor their beloved dead.
Face Paint
The easiest Day of the Dead costume to assemble is to dress in black and paint your face like a skull, or use skull face paint as one element in a grander costume scheme. Black and white greasepaint is all you need. Paint your nose and the area around your eyes black. Paint a toothy grin in black across your mouth and cheeks, then paint the rest of your face white. If you desire a more elaborate look, you can paint your face like a sugar skull. If you're allergic to face paint or just want a little variety, wear a skull mask. Like face paint, the mask can be incorporated into a more elaborate costume design or it can be worn alone with black clothes.
Vintage and Historical Costumes
If you like historical costumery, this is a good time to indulge your interest. Victorian-style gowns, parasols, bustles and gloves all have strong Day of the Dead costume potential. A large-brimmed hat, perhaps trimmed with a veil, is a good accessory. If you find a vintage dress in black lace, go for it. Your costume can be pristine or you can choose to distress it for added dramatic effect; slash the lace and tear the hems, add powder to look like grave dust, and bend the rim of your hat. You also could don a black tuxedo. Evening wear brings a formal atmosphere to Day of the Dead celebrations. Top hats, canes and even short capes enhance the effect. For women, a long wool coat in a dark color is a good choice, especially on chill October nights. A distressed wedding dress is a favored Dia de los Muertos costume choice.
Skeleton
If you want to wear more than just plain black clothes but vintage clothing or formal wear seems out of reach, you can create a simple skeleton costume. Reflective tape atop a black T-shirt and leggings creates an illusion of glowing bones. An even easier choice is to buy a T-shirt with a bone ribcage design already on it.
Costume Ideas to Avoid
Try to avoid stereotypical costume elements such as sombreros, ponchos and bullfighting costumes. Avoid appropriating someone else's culture when putting together your costume. This means that Mexican folk-costume elements such as multicolor tiered skirts are problematic. It's more respectful to stick to your own cultural background when constructing your costume; after all, you're honoring your own beloved dead by celebrating Dia de los Muertos.